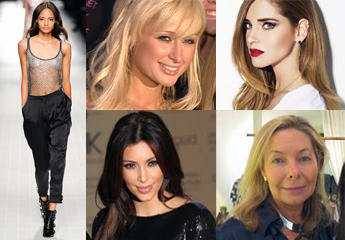 Socialites and celebrities live a very busy life attending parties, setting fashion trends, setting red carpet functions on fire, featuring in reality shows and remaining in news for all the good reasons. Gossips regarding these socialites are an interesting topic.
Malaika Firth – This 20 year model, started her career under Premier Model Management, is the second black model to appear in Prada advertising after a span of 20 yrs. Firth, a Kenyan born British model gained popularity in Spring/Summer 2014 collection show, where she walked for more than 40 shows. Following this, she was booked by various well known brands namely Valentino, Burberry and Prada. Malaika Firth is been called as the next Naomi Campbell. Considered as one of most of popular fashion models and socialite she has a long way to go.
Paris Hilton – Talk about famous socialite and there comes beautiful and sexy Paris Hilton. Being the great granddaughter of Conard Hilton – the founder of Hilton Hotels, made her a celebrity at an early age. She started her modeling career as a teenager, later she starred in reality television series and few movies. Her fashion line in perfumes, bags, watches, footwear earns her a fortune every year. Paris is also one of the most fetched celebrities. She has been famous since long and continues to do so even in 2014. Her contact renewal for the hit music video "Good Time" in 2014 and announcement of her being a guest housemate in fifth season of VIP Brother Bulgaria adds few more feathers to her hat.
Chiara Ferragni – Is a well known fashion designer and a widely followed blogger. Her blog named The Blonde Salad is also the name of her first book. New York has introduced her as 'One of the biggest breakout street-style stars of the year'. In December 2013, her blog had around 1.6 million followers. She has collaborated with Steve Madden to design a 9-shoe collection for spring 2014. She is also employed as a model and spokesperson for Guess. Chiara has collaborated top brands like Louis Vuitton, Bottega Veneta, Zegna, and Mango on various projects along with her own design – Caia Plus.
Kim Kardashian – Kim Kardashian is an American television personality, socialite, fashion designer, model and actress. She began her career in a reality show Keeping Up with the Kardashians in 2007 and moved on to act in several movies gaining international success. She has endorsed several brands. She featured in American magazine – Vogue in April 2014 and has fortune of around $45 million. She married her long term boyfriend Kanye West on May 24, 2014.
Sandra D'Auriol – A British socialite, who came in news due to death on January 28, 2014. She freaked out after her facelift plastic surgery, stripped naked and jumped from roof of Camden Medical Arts Building. She sat there dangling her feet off the edge and later took the final plunge for death. Her death has been associated with post-operative psychosis.