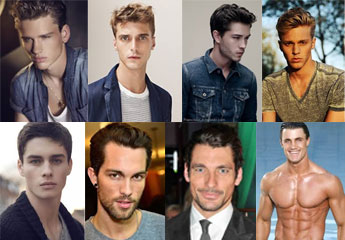 When we talk about supermodels, we think of the beautiful, graceful ladies who elegantly walk the ramps, pose for big brands and steal our hearts. We have several lists which showcase these beauties, but this list is about the top male models, whose muscles, great physique, styled hair and deep eyes make our heart beat faster.
Simon Nessman – Simon Nessman is a Canadian super model from Courtenay, British Columbia. He is currently considered as the second most successful male model after Sean O'Pry on models.com list. Nessman scores 10/10 on looks with beautiful brown eyes and brown hair and a symmetrical face cut. He has featured in several reputed ad campaigns for Versace, D & G, Givenchy, Calvin Klein, Lanvin and John Gallioano. Currently he is the face of Giorgio Armani. He has walked in virtually all big-name runways including the ones for Salvatore, Roberto Cavalli, Tommy Hilfiger, Viktor & Rofl and many more. He also featured in Vogue, Details, Numero, V Man and L'Officiel Hommes magazines. Nessman is also considered as of the highest paid models in the industry.
Clement Chabernaud – Paris born handsome model Clement Charbernaud has achieved success in quite a short while. His dark blonde hair, blue eyes and perfect physique are worth admiring. He debuted at the spring Dior Homme show in Paris and soon became the face of Jil Sander and Willy Vanderperre. He has walked for several renowned shows including fall Jil Sander, Raf Simon, Prada, Givenchy, Hugo Boss and others. He also appeared on several magazines like Details editorial, French Vogue editorial, pre fall issue of i-D, Vogue Hommes International editorial. Clement Chabernaud is no doubt a super model with a bright future.
Francisco Lachowski – He is famous Brazilian fashion model. Francisco started his career at the age of 17 when he won the "Supermodel of the World" in Sao Paulo, and was awarded the contract with Ford Models. Since then he has participated in several runway shows in Milan and Paris, walking for designers like Gucci, Dior Homme, Versace, Dolce & Gabbana, Armani and few more. He also has several campaigns to his credit including DKNY jeans, Lacoste, Armani Exchange, Mavi Jeans and Etro. This 23 yr, 6 ft 2 in tall, brown eyed was amongst the top 5 of Tumblr's "most reblogged" model. He has featured in 50 Top Male Models.
Clark Bolelman – Golden haired Clark Bolelman made quite a flash when he appeared in Calvin Klein Collection's spring 2014 campaign. Apart from Calvin Klein he has features in various advertisement campaigns of TOPTEN S/S. He has appeared in V Magazine Fall Preview 2014 Covers and editorials like CR Fashion Book, Details magazine, DSECTION Magazine, Harper Bazaar UK and few more. As he climbs the ladder of success we are sure he would be a much bigger name very soon.
Joe Collier – Joe Collier is a young model who has been booked just in a year for prestigious names like Topman and Armani Exchanges. He is 6'2'' tall, with dark brown hair and beautiful green eyes. Recently he walked various shows like Fashion Rocks 2014   Show, J. Crew S/S 15 Presentation, Perry Ellis, Tony Snyder, Robert Cavalli, Veneta, Dolce & Gabbana and others. He has featured in several magazines like 7TH Man, Lab-A4, Nylon Guys, L' Officiel Hommes Netherlands, Open Labs, Vogue Hommes Japan and Virtual Tales. With great looks, talent and big brands to his name Joe Collier has a long way ahead.
Tobias Sorensen – Supermodel Tobias Sorensen started his modeling career with Kriss Van Assche's show in Paris. This Danish model has scored ranking in The Money Guys and Sexiest Men list. His height, a great face cut and the scar as his distinguishing features. He has modeled for various brands like Antony Morato, Belstaff, Blanco, D & G, Diesel, DYNK, Husky, Iceberg, etc. Essential Homme, Euroman, American Vogue, Carbon Copy, Details are few magazines wherein he appeared. Tobias has walked for D & G, DL 1961, Elie Tahari, Gant and others. He is an inspiration for all those who believe there is a beauty in imperfection, as his scar which he thought might cause problems has in fact became a trademark now.
David Gandy – A successful British model David Gandy is one of Dolce & Gabbana's favourite faces. He was discovered during a television model search competition and went ahead to became a successful model. His muscular build was something different compared to the skinny models in the industry and it caused menswear fashion designer to move on to masculine standards. David has been a part of several known advertisement campaigns like Massimo Dutti, Lucky Brand Jeans, Mark and Spencer, Bionda Castana, Banana Republic and others. He appeared on covers of several magazines including The Sunday Times Magazine, Esquire Malaysia, Glass Magazine Summer Issue and L'Officiel Hommes. David is considered as one of the topmost models and his name regularly appears on various lists like The Money Guys, 100 Sexist Men, Top Icons and Influential people.
Greg Plitt – An American fitness model and actor Greg Plitt is popularly known for his advertisement campaigns for Under Armour, Old Navy Jeans, Calvin Klein, Modell's and Skimpies. He has appeared in about 100 fitness magazine covers and 25 romance novels. Few of these magazines are American & Fitness, Flaunt, Men's Fitness, and Men's Exercise. Plitt is a global spokeperson/model for Thierry Mugler's Angel Men and ICE* Men fragrance. He also has several movies to his credit. His green eyes, brown hair and awesome physique make him an America's No 1 fitness models.