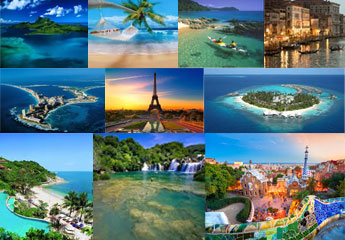 After the stress of planning wedding and the draining task of arranging and attending all functions, honeymoon is a relief for the newlywed couples. The lush green mountains, picturesque landscapes, white sandy beaches bring peace and romance into your life. Enjoying an amazing honeymoon with long walks on beaches, roof-top dinners, late night parties and a mesmerizing ambience adds spark to your married life. Following are few such wonderful destinations around the world, to help you plan your honeymoon.
Hawaii Islands – Hawaii Islands is a dream destination for beach lovers. This magical island offers many natural wonders along with the stretches of beaches. Moonlight dancing, fabulous food, long walks on beach and listening to guitar while watching sunset are few things to do for honeymooners. Few must see treasures here are extraordinary cliffs of Napali Coast, vibrant shores of Waikiki Beach, white sand beaches of Papohaku and the tranquil waters of Hulopoe and of course Maui Island. Hawaii has loads of hotels which will pamper you and offer you an exotic experience. Enjoy the culture, cuisine, adventure and diversity of Hawaii combined with romance and peaceful atmosphere.
Caribbean beaches – One popular honeymoon destination which tops various lists is Caribbean. Caribbean is famous for its beautiful beaches, luxury hotels, fine dining restaurants and amazing aqua blue waters and pristine atmosphere. Visit to any of the beaches here like Bahamas, Anguilla, Turks and Caicos, Puerto Rico, Aruba, Dominica or Jamaica and Cayman Islands will leave you with wonderful experience. Most of the Caribbean Islands like Bahamas offer historical charm, modern attractions and ecological diversity. Caribbean beaches will surely offer you wonderful time and a perfect escape from the crowded cities.
New Zealand – A trending honeymoon destination, New Zealand has something to offer for each type of traveler. Scenic beauty, gorgeous beaches for swimming and sunbathing, fresh lakes for fishing, rivers for rafting, and beautiful mountains are worth experiencing. New Zealand is a perfect option for those who wish to enjoy their honeymoon filled with adventures and various exciting activities. Luxurious hotels, breathtaking scenery and various fun activities will surely make your stay a memorable one.
Italy – If you are looking for a charming and romantic honeymoon destination, Italy is the place for you. Cobblestone streets, old classic churches and bistros with amazing painting offer a perfect ambience for couples. Moonlight walks, exotic meals, chilled wine and fabulous culture and art will make your trip a pleasant one. Romantic Venice, rolling hills of sunflowers in Tuscany, shopping at Florence, amazing views from Lake Como and nightlife at Milan will surely add fun to your trip. Select an area in Italy that best suits your expectations and make the most of your visit.
Cancun – Cancun, Mexico is an upcoming tourist and honeymoon destination. Apart from the white-sand beaches and proximity to Mayan ruins, Cancun also offers jungle rainforest, excellent cuisine, well-priced resorts and amazing shopping options. You can enjoy your nights at various festive nightclubs and spend your days enjoying activities like golf, jeep adventures, parasailing or romantic walks along the beach. Cancun is a perfect place to get that "us" time for honeymooners and pamper you in a beautiful surrounding.
Paris – Paris, the City of Light is a well-known honeymoon destination since long. This City of Love welcomes you with the iconic monuments like Eiffel Tower, museum of Louvre, Notre Dame Cathedral, Palias Garnier, and the rich and charming French culture. For foodies and wine enthusiasts, Paris is a paradise. Visit Laduree and Pierre Herme for gourmet macarons and tasty pastries, and try Champagne at Dilettantes. Whether it is just wandering on the streets, a fun night in neighborhoods of Pigalle and Monmatre or a visit to one of the art galleries or a visit to the famous Lover's bridge, Paris is full of romance.
Maldives – Maldives is considered as one of the most romantic spots in the world. Maldives has more than 1100 coral islands spanning 35,000 square feet of the Indian Ocean and is no doubt an unspoiled island gateway. It also presents you the picture-perfect sunsets, long beaches, array of colorful fishes and sea creatures and also the best diving and snorkeling experience in world. For an exotic experience enjoy your honeymoon in your own private paradise at Island resorts, while basking in the romantic archipelago surrounded by pristine beaches. Spend your time just lazing around on beaches, swimming in crystal clear water or enjoying the beautiful Maldivian sunrises and sunsets.
Thailand – A wonderful Southeast Asian destination for newlyweds is Thailand. It is a gateway to famous Phuket and Phi Phi Islands. Honeymooners can enjoy the beautiful beaches or spend time in Bangkok, the nation's capital or visit Chiang Mai the gateway to Golden Triangle. Lush green jungles, wonderful beaches, scenic mountains and fabulous food are worth enjoying here. You can also enjoy various city excursions and terrific nightlife with wonderful shopping options here.
Croatia- If you wish to enjoy a perfect Mediterranean destination head to Croatia. Croatia offers a unique cruise experience to explore Dalmatian Coast. Various places like city of Dubrovnik, a bustling seaport; the island of Korcula, where you can bike, snorkel or kayak; Diocletian's Palace, a prestigious UNESCO World Heritage site, Rovinj, a fishing port and Hvar with beaches, lavender fields, pine forest, fruit orchards and vineyards are a must visit. Croatia is a perfect mix of Old Europe and Mediterranean cruise with plenty of time along the beaches.
Barcelona – Barcelona is a perfect mix of history, culture and cuisine. Considered as Europe's top dining destination, Barcelona has an army of innovative chefs, high concentration of restaurants and amazing cafes. Food is not the only thing for which Barcelona is famous, it is all known for its wonderful architecture. You will surely stare in awe at the surreal details of the buildings, balconies and columns. The colors, curves and asymmetric oddities showcase a classic blend. Do visit the numerous galleries, fantastic nightclubs, open-air theatres and exciting waterfronts of Barcelona.