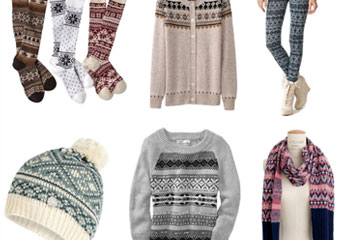 Winter, probably the most dreaded season for fashion-lovers is coming soon. However, winter does not mean wearing heavy clothes anymore. The old fashioned knit jackets and extra layers of dull clothes can be replaced with light yet warm clothes and brightly colored knit wears. Following are few tips to look hot in the cold season of winter.
The basic essentials for winter are:
Hat.
Scarf.
Few layers of inner clothes.
Jacket.
Good shoes and woolen socks.
Few tips for winter wear:
Tips for Women:
A nice and versatile hat is a must have. You can purchase a few with different styles and colors but one single neutral toned hat that blends perfectly with your coat is also needed. Make sure your hat covers your ears. You can also select some knit beanies for a causal look.
Jackets are most important apparel for winter. They not only keep you warm but add to your style statement. Good ones come little costly, but there is also a scope to purchase one sturdy, trendy and fashionable jacket. Chose the one that looks best on you and the one that is best suited to the intensity of winter you are about to face. A heavier coat may be needed for women where winters are too harsh while a lighter one is enough for moderate winters. Chose bright colors or black or grey.
Adding a scarf to your dressing style is an awesome idea. And when it comes to scarves you have lots of choices in terms of colors, fabrics and patterns. Try different patterns, prints and mix them to get that exciting look.
Thermal leggings and tights are good when you wish to wear favourite skirts and dress stylishly even in winter. These leggings keep your legs smarter and look appropriate for the season. Winter blue jeans are now in market and look stylish for this season.
Knee high leg socks that look like knot crochet are helpful, especially when you are at home and would love to wear skirt instead of those overused jeans. You get this leg sock in pretty colors and at a very reasonable cost.
Gloves are quite essential to make sure that your hands are taken care of. You can wear gloves which are made of mittens, wool or any other warm materials. Chose gloves are per your need and make sure that they match with either your hat or scrap or fir in the color scheme of your outfit.
Winters demand layers of inside clothes, so be prepared with few t-shirts or tank tops that can be worn under your long shirts.
Equally important are your shoes. Avoid shoes which leave your feet open like flip-flops, strappy sandals. Stick to different kinds of boots, cute tennis shoes or fully covered flat, depending on your outfit.
Accessories, earring, beautiful clutch or a bright purse can be teamed up as per your dress and occasion for better look.
Women seem to have lots of option to wear during winter, men may not have those many, yet with few tips you can look hot in this season.
Tips for men:
For men it is advisable not to wear bright and funky hats, you can rather go for classy, winter version hats. A newsboy, ski caps, bowlers or insulated fedora is a good choice.
A trench coat, knit wear, insulate-lined peacoats, padded and quilted jacket or a classic three-piece suit can work best. Cashmere-and-silk-blend sweaters are a new trend. Do not go for extremely loud colors; consider navy blue, forest green, brown or grey.
Men should prefer scarves in single color and with simple pattern. Select a color that will blend with your coat or hat, like if you are wearing a brown coat go for a burgundy colored scarf or a lighter shade of orange. A navy colored scarf looks good with most outfits.
Leather gloves give best look. Make sure you match it with your overcoat or shoes. Prefer ones with inner lining of cashmere to provide warmth and comfort.
White or any other colored T-shirts are best options for layering clothes. Henley-style shirts look great with plain white tees.
Gone are the days of heavier boots. You can select from number of options available in market at a varying price range. Tennis boot with thick socks are quite comfortable. Opt for natural materials rather than just rubber boots.
We hope these tips will help you select the best outfit for this winter. The markets are flooded with several choices; select the one which compliments your look and occasions. Make sure to stay warm and take extra care of your feet and hands, keep them covered. It is very easy to look cute and fashionable in winter while shielding your body from harsh cold.