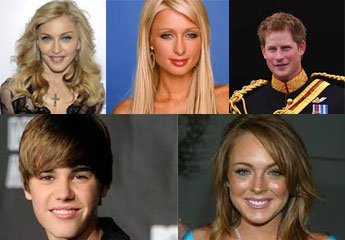 Celebrities are always in limelight and any positive or negative news related to them spreads like wildfire. A lot many celebrities also get entangled in controversies, which is of course a part and parcel of their shining life. But there are few who we can say just love controversies, they tend to come out of one and get involved in another. Following is a list of such celebrities who have been surrounded by several controversies one after other:
Madonna tops our list. Madonna is an American singer, songwriter, actress and a famous businesswoman. In her long career she has received critical acclaim from many musicians; however she also got involved in lots of controversies. In 1984, her song "Like a Virgin" was little bold for the audience and caused issues. Later her song "Like a Prayer" raised eyebrows as the video involved saint and Madonna dancing around a burning cross. This video shocked Vatican and Pepsi withdrew an endorsement that it had with Madge. One of her videos from the song "What it Feels Like For a Girl" was banned by MTV for being too violent. Her other song which also caused outrage was "American life" which was seen as an anti-war song. At that time American was going to war with Iraq and this song was viewed as anti-American. Apart from her songs which continuously caused some controversy she is also a part of several others. Madonna passed some comments which hurt sentiments of Hindus. Madonna then sparked further controversy when she called David Letterman a sick fuck. And of course her famous lock lip with Britney Spears and Christina Aguilera is quite well known one.
Paris Hilton and controversies go hand in hand. The great grand-daughter of Conrad Hilton is an American heiress, socialite, television personality, fashion designer, model, author, singer and much more. She is a famous socialite seen often in New York party circuits. Paris got trapped in a controversy when a notorious sex tape with her then boyfriend Rick Salomon was leaked just before the premiere episode on her reality show The Simple Life. She then got into another controversy when she opened her store in Mecca. But the conservative Muslims in Mecca expressed disapproval over opening a store close to the Grand Mosque especially from someone whose sex tape was leaked. She also raised eyebrows when her beer ad created outrage in Brazil when a government official for women's affair called for the ad to be pulled off sure to offensive sexist tone. The list of controversies related to her probably doesn't end here and we can accept few more additions in near future.
Justin Bieber is next in our list. Justin rose to fame and gained millions of fans with his three albums. He was named as third most powerful celebrity in the world by Forbes magazine in 2012. He had several run-ins with law and was finally arrested for the first time in 2014. He was charged for reckless driving in Brazil, he was also arrested at Miami Beach for driving under influence, driving with an over six month expired license and resisting arrest. One of his neighbors charged him for throwing eggs over his house and causing damage. Justin was also accused of fathering children with several women. He had several other controversial moments including spitting on his own fans, being caught smoking weed, drinking beer while being underage and few others.
The royal Prince Harry also had his share of controversies. His naked photos of a party in Vegas went viral when they were leaked. These photos also include a naked mysterious female seen in front of him. Also his photos of relaxing in a pool surrounded by bikini-clad girls became famous. He found himself in controversy again when he wore a Nazi uniform flaunting a swastika symbol around his arm. These photos too made their way almost immediately and Harry made a public apology for his poor costume choice. He has few other accusations as well, which might not be proven, but are everywhere on internet. He brawled at paparazzi at a night club, he admitted of pot-smoking, he was accused of animal cruelty during a polo match and one of his video reveals that he passed some racial comment against a soldier. His acts have accused several embarrassing moments to royal family but his love for controversies continues.
Lindsay Lohan is popularly known as a controversy Queen. This pretty American actress and model began her career as a child artist and rose to stardom in later years. However, she was surrounded constantly by controversies like possessing drugs which happened couple of times. She has had multiple stints in rehab as well. Lindsay has been also arrested for drunken driving and theft for which she agreed to volunteer in different communities for reforming. She was also in news for her relationship with female DJ Samantha Ronson. Lindsay has been in news most of the times for wrong reason and unless she improves on her behavior we don't see her shrugging off her controversy queen tag.