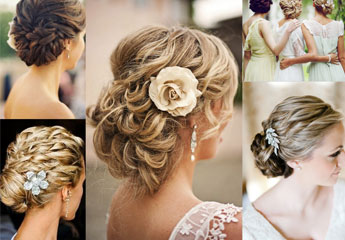 Your big day planning includes details of your guest list, wedding speech, bridal gown, makeup and of course your hairdo. Every bride wants to look best on her wedding day and apart from awesome dress and amazing makeup, an elegant and beautiful hairdo is also essential. Here is a list of beautiful bridal hair styles which will help you decide on which would suit you the best for the big occasion.
Different types of buns have been a popular hairstyle for brides.
Twisted Bun – This elegant and beautiful hairstyle will make the bride look gorgeous. It is easy to do and you do not need really long hair for this. Just split your hair in two and then tie a knot, direct the left section to right and pin with 2-3 bobby pins and do the same with right side. You can use spray to secure it properly.
Side bun – This is a common yet one of most awesome hairstyle. Just take half of your hair over the side where the bun will sit, tie a ponytail and split it in 2. Then take a hair doughnut and feed the ponytail pushing two sections into the middle. You can then carefully set your hair to erase the messy look.
Half hair buns – If you wish to let your hair lose yet add style to it, go for a half hair bun. A half hair bun is versatile and irresistibly feminine. Take hair from crown and side, and keep twisting till it rolls like a bun at the centre. Pin the bun and curl the remaining hair. And of course add flowers, lace or bows to give the perfect finish.
Low knot bun – This hairstyle looks beautiful on mostly all kinds of face cuts. Just separate out your hair into two sections at the nape of your neck and then divide each section into two and tie knots till you reach the bottom. Repeat the same with other side and then lift your knot up and pin up the end of the other knot below it. Tuck the second one in same fashion.
Few celebrities who tried these hairdos are:
Singer and actor Hilary Duff looked stunning in her high up bun.
Jessica Biel had an awesome pull back bun on her wedding day which made her fringes look much better.
And of course the famous bride Kate Middleton who opted for a half bun look while letting the long curls fly gracefully.
A traditional hairstyle which hasn't lost its charm is braid:
Game of throne braid – This one is gorgeous yet unique hairstyle. Simply grab you're a section of your hair just behind the hairline from crown of your head and part into 3, then braid all the way down and fasten with hair-tie. Repeat on other two sides and crisscross the 2 braids.
Side braid – A sophisticated hairdo for all brides is a perfect side braid. To create a romantic side braid make a deep side part and pull all hair to the opposite side, and then begin a French braid from the top and continue towards the ear. Add hair from opposite side by taking horizontal section and once all hair is tied up in braid secure with a rubber band. You can use an extension if your hair is short.
Braid bun bang – Girls with fringes find it difficult to get an elegant bridal hairstyle. But a braid with bun is perfect for this haircut. An easy way to do this is by gathering hair and tying it on the top with a hair-band. Take 1/4th of the ponytail from the side and tie the rest in a bun. From the left out 1/4th hairs create a braid and secure with bobby pins.
This hairstyle has been quite popular and several celebrities have flaunted it for their big day as well as for award ceremonies:
Aishwarya Rai had a perfect long braid decorated with beautiful flowers for her bridal look.
Chelsea Clinton looked royal in her twists and braids on her big day.
Other quick and easy hair styles include:
Side Pony – A side pony is simple and easy to make. But it can look slightly messy.
Cinnamon roll – This is a funky and stylist hairstyle. All you have to do is simply section off your pompadour and divide rest of the hair into horizontal rows. Gently roll each of this row and secure carefully with pins and your pretty cinnamon roll is ready.
Sleek roll tuck – Put your hair in a low ponytail and secure it with elastic. Pull the hair into two sections and loop your ponytail between the two sections. Flip your ponytail upward again and pin it right above the original loop leaving few inches of hair out. Then tie these remaining hair in a loop in clockwise direction on the left and pin up in the centre. Tie the remaining hair in anticlockwise manner.
Lose wavy hair – A natural way to look stunning on your wedding day is just let your hair lose and have your veil flowing over it.
Kate Moss had chosen to let her hair loose with a slightly tousled way look, so did Katherine McPhee, Kacey Coppola and Jeena Bush for their special day.