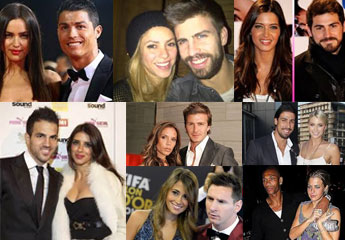 WAG is an acronym used to refer wives and girlfriends of popular sportsmen. WAGs are in limelight and their personal lives are always followed closely due to their association with high-famed sportsmen. Some of these are celebrities themselves and known across world even before they got linked to the sportsmen, while some others gain popularity on becoming a WAG to these players. Whichever might be the case, one cannot deny that these WAGs seek a lot of attention especially during the gaming season. Following are few such famous WAGs:
Irina Shayk (Cristiano Ronaldo) – Irina was arguably the most famous WAG in Brazil, this year. Irina is a Russian supermodel and has been dating Ronaldo since 2010. Irina rose to fame after starring in the video for Kanye West's hit Power in 2010. She has appeared on cover page of 2011 Sports Illustrated Swimsuit Issue and has been associated with this magazine since 2007. Along with her beau, she featured in Nike's 'Risk Everything' commercial. This famous couple recently posed in a racy photo shoots for Spanish Vogue by the famous fashion photographer Mario Testino. Ronaldo sure is worth $80 million and the most valuable football player, but his girlfriend is no less a baby doll.
Shakira (Gerard Pique) – Shakira no doubt was a world renowned celebrity even before she started dating Barcelona and Spanish defender Gerard Pique. The pair met while filming the video Waka Waka – Shakira's 2010 World Cup song, and began dating after the tournament which was won by Spanish team. This Colombian singer has sold more than 70 million copies worldwide and has won several international awards. Pique also has been no less and has won European championship and a World Cup with Spain. The couple welcomed their baby boy Milan, in 2013. Shakira, no doubt is one the most celebrated Latin artist and WAG of all times.
Sara Carbonbero (Iker Casillas) – Voted as of the world's sexiest journalist, Sara is a beautiful WAG of Spanish goalkeeper Casillas. They have been together since 2009. In 2014, she gave birth to their son Martin. She got into controversy when she was blamed for Spain losing to Switzerland in 2010 World Cup with report claiming that she distracted her boyfriend and Spanish goalkeeper Casilles. However, it did not affect him much and he greeted his girlfriend with a kiss in a post-match interview after their win in final. Sara owes her celebrity status to both the facts, that she is one the sexiest reporter and WAG of world-famous goalie Casillas.
Victoria Beckham (David Beckham) – One obvious choice on this list is Victoria Beckham. She is a former pop star and business women. She had fame at her doorstep even before she married David Beckham in 1999 owing to her grand success as Spice Girl. In 2007 she was reported as 52nd richest women in Britain and 19th richest person with her husband with an estimated joint wealth of $225 million. In February 2013, she was assessed as one of the top 100 powerful women in fashion category by Women's Hour. Victoria is also known for her charity work as well as she stands against fur industry and protection of animal right. We can surely say she is one of the leaders in the WAG world.
Daniella Semaan (Cesc Fabregas) – Daniella became famous when she dragged Fabregas in her million-dollar divorce case. Being 13 year older than Fabregas did not stop her from winning his heart. She left her millionaire husband Elie Taktouk in 2011, after he saw a picture of her kissing the player in a newspaper. Apart from this she is also known for rubbing against other WAGs in a wrong way. The couple has a daughter together. Daniella, a regular in gossip magazines, is also known to her friends as Queen DD because of her expansive cleavage.
Antonella Roccuzzo (Lionel Messi) – Messi is one of the highest earning footballers in world as well as a famous Barcelonan sportsperson. Off field his love lies with his Argentine girlfriend Antonella Roccuzzo. They have known each other since childhood and fell in love in 2009. Though, she is a wife of the famous celebrity, Antonella does not like the limelight much and prefers to keep her personal life private. The couple has a one year son, Thiago.
Lena Gercke (Sami Khedira) – Lena Gercke is a popular German fashion model and television host. She is also a proud winner of first cycle of Germany's Next Top Model and host of Austria's Next Top Model. She started dating Real Madrid's Sami Khedira around 2011. It was rumored that during UEFA Euro 2013 the German FA asked her to tone down her appearance for semi-final clash against Italy. In fact German gossip magazine Bunte had reported that the national chiefs feared that model has overshadowed the WAGs of other players during the tournament.
Gemma Atkinson (Cristiano Ronaldo & Marcus Bent) – A famous television personality and glamour, and lingerie model, Gemma Aktinson is known for her films and television shows. She shot to fame playing Lisa Hunter on Channel 4 teenage soap opera Hollyoaks. Akitson dated Cristiano Ronaldo at one point and was later engaged to Marcus Bent, an English former football striker; but they had a split-up. She is now in relationship with former rugby player Olly Foster who is a personal trainer.