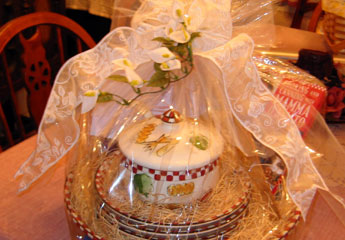 Bridal shower is a great way to dote the to-be-bride. It is generally a celebration involving women close to the bride who wish to shower their blessings and love before the wedding ceremony. Wedding are no doubt a joyous occasion but also an expensive one for the bride and groom who embark on to their new life in their first home. So, on such occasion it is customary to give gifts to help them to set up a new home blissfully. These gifts could be anything from the registry of what the couple needs to something more intimate like bridal lingerie. Let us see few such gift ideas to help you decide on the right one.
Few factors that you need to consider while selecting the gifts are:
What does the couple need?
How much is your budget?
Can you gift something related to the hobby of the couple?
Do you want to plan something that will surprise the bride?
Will a mischievous gift be a better idea?
Do you want to gift something that bring backs the sweet memories?
Once you have given a thought on all these, select your gift wisely:
A new couple may need a lot of things, for example they need to setup their kitchen. So your gift can comprise of – dinner sets, dessert plates; bakewares, pie plates; champagne glasses or barwares; linen napkins and napkin rings, table runners, dish towels; tea set with teapot; small appliance like coffeemaker, mixer, grinder or a blender.
Similarly you can also gift something for their new bedroom like a cashmere blanket; bedding; a beautiful bed sheet set; a photo frame; breakfast in bed tray or bedroom pajamas and romantic candle light setups.
For couples who love to decorate their home you can chose from one of these – a flower vase; relaxation material like scented candles or flowers, cool clocks, wall hangings; a scenic picture, an antique show piece etc.
And if you know the hobbies of the bride or couple you have loads of option to chose from – Gift some books to a book lover, tent for two to those who love camping, travel gears to regular travelers, a gardening kit to a passionate gardener, museum membership to a history lover, camera for a photography buff, a music player for music lover, a dinner for two gift certificate for foodies or a ticket to ballets, opera or drama to those who enjoy these kinds of entertainment.
If you wish to make your gift more intimate think of these ideas – a bathing suit for honeymoon, beach towels and beach bags, honeymoon guidebook, a book on passionate kissing or love making, some sensual scents to make their moments flirty, a chrome plated double shower head to enjoy bathing together, a tiny lingerie or bridal nighties to add spice to their love life.
Another awesome option is a personalized gift – a get ready suit with her last name embroidered on it; personalized aprons, a Mr. and Mrs. black mug set, milestone wedding frame, personalized frames, romantic pillow cases with names embroidered on it, a wood photo album with an artfully engraved names on it, a collage out of her memorable photos or a marital bliss game set.
Some perfect and much needed gift for bride are a certificate for a spa day, a coupon for parlor visit which would take care of all her beauty needs, a beauty treatment session or a dancing lessons at a local dance studio.
A popular set of gift items includes presenting a beautiful basket with assorted stuff like a seductive basket containing bubble bath, soaps, shampoos, lotions; a manicure basket with nail polish, nail clipper, nail brush and cuticle remover; a wine appreciation basket with unique items like bottles of quality wine, two beautiful wine classes or a ticket invitation to a wine tasting festival or a fabulous relaxation gift basket containing a gel eye pack, Epsom salt or bubble bath, aromatherapy oils, a hand held massager and a relaxing music or CD.
Apart from these, you can surely plan some mischievous gift as you know would know her likes, dislikes, secret loves, unfulfilled dreams and funny memories. So think wild and design a beautiful and funny yet memorable gift for her.
Thinking of a perfect gift for to-be-bride can be a tedious task. But if you know her needs, desires and choices you can surely create the best gift. So let your imagination fly, put your brain to work and design an awesome gift which she remembers for her life.