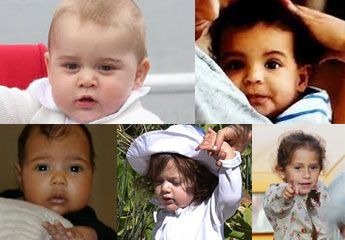 Babies of famous Hollywood stars, sports personalities, business tycoons and other celebrities generally receive fame even before they are born. Their photos sell magazines, initiate clothing trends and also keep their parents in news cycles. Apart from fame these kids are heirs of millions of dollars. Such lucky babies are surely born with a silver spoon in their mouth.
Prince George of Cambridge – Little Prince George is the son of Prince Williams, Duke of Cambridge and Catherine, Duchess of Cambridge. He is third in line to inherit British throne and his official title is His Royal Highness Prince George of Cambridge. Apart from the royal designation, Prince George stands to inherit at least $1 billion in royal asset alongwith a multi-million property portfolio. He would also enjoy plenty of perks as being a part of royal family. The British taxpayers subsidize the family's lifestyle. Also, being in line to the British throne, he stands a brilliant chance to inherit "Crown Estate" – a real estate portfolio worth £7 billion which is the key source of income for the family. As per 2012 reports, the revenue from Crown Estate was estimated around $400 million. Well, this darling infant of Britain also has lot to gain from his mother's side as well.
Blue Ivy – Beyonce and Jay Z's baby Blue Ivy is no doubt one of the richest babies of world. From cradle to her birthday bash everything about her speaks about the loads of money spent on her. Blue Ivy's collection of clothes, accessories and shoes can astonish even the topmost celebrity around. She reportedly naps on $3500 crib and owns a diamond encrusted pram of $50,000. There were few rumors that the new baby was taken home after spending a staggering $1.3 Million to renovate a private wing for her arrival. And it wouldn't be a surprise to know that Blue Ivy's birthday was a grand one with her parents spending $200,000 on gifts and party. She received $80,000 custom made Barbie studded with diamonds as her first birthday gift. Her Windmill Playhouse is worth $30,000 and an extravagant solid gold handmade Ginza Tanaka rocking horse of $642,000. No wonder, being bundle of joy of filthy rich parents has its own benefits.
North West – Another rich baby on our list is North West, the beautiful daughter of Kim Kardashian and Kanye West. From the front row seats at the Paris Fashion Week to being featured in magazines North West is living a celebrity life. With exotic brands to dress and deck, she is definitely the stylish kid of her times. Infact she has her own stylist whose sole job is to make mini versions of Kim's dresses for her. She has more than 200 articles of designer clothes in her closet. And baby North West flaunts a $50,000 Lorraine Schwartz earring as well. To ensure that the baby is driven mad by paparazzi Kanye and Kim have spent $500,000 for a baby body double. North West also possesses unique dolls that look just like her parents. With so much money being spend on her as a toddler, wouldn't be a surprise if she owns a mansion by the time she is a 15 year old.
Skyler – Son of super-stylist Racheal Zoe and her beau Rodger Berman is worth including in our list. He dresses only in finest designer gear and his clothing includes $1,160 Gucci bomber jacket and leather Tod's loafers at $150 a pair. Rachel Zoe confessed that she is obsessed with buying clothes for her little princess and also regretted buying costly brands which he outgrew within days. This trendy toddler has even walked ramp with his mother.
Emme Anthony – Daughter of Jennifer Lopez and Marc Anthony is definitely baby born with silver spoon in mouth. Emme and her twin brother Max surely do enjoy a lavish style with a pampering mother to dot them. When Emme, aged 4 attended a fashion show in Paris she sported a $2,400 worth of Chanel accessories including $310 brooch and $2,100 bag. Emme and Max often fly in private jet along with their mother to international destinations including Italy, Britain, Spain, Turkey and many more. These lucky twins are dotted not only by their mom but also their godfather Tom Cruise. He reportedly threw a $200,000 "welcome to world" christening party. There were rumors that the twins received golden rattles as well. And these Jenny's kids have already shot a Gucci kids campaign advertisement.