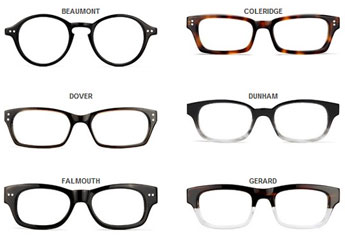 Eye glasses, specs or spectacles are frames bearing lenses worn in front of eye to correct vision. You may need specs to correct long or short sightedness. Apart from correcting eye sight issues specs also add style and reflect your personality. Hence choosing specs correctly is essential for better sight as well better looks.
Eyeglass lenses are of various types like:
Polycarbonate lenses – These are a good choice for people who regularly participate in sports or work in environments where glasses can be easily broken or scratched. They also provide protection against ultraviolet rays.
Trivex lenses – These lenses are made of plastics with properties of polycarbonate lenses but are lightweight, thin, and impact resistant and may result in better vision correction for some people.
High index plastic lenses – These are required for people with strong prescriptions and are thinner and lighter than other glasses.
Aspheric lenses – Are defined as those which are made of differing degree of curvatures over its surface which allows the lens to be thinner and flatter than other lenses.
Photochromic lenses – Made of either glass or plastic these lenses change color from clear to tint when exposed to sunlight.
Polarized sunglasses – Polarized lenses reduce glare caused due to light reflected from water or a flat surface and are beneficial for sports and driving.
Depending on your need and cost you can select the right type of lens. Apart from these types, special types of lenses with coatings are also available. Few of them are anti-reflective coating, scratch resistant coating, ultraviolet coating, tinted lenses and mirror coating.
Frames used for eyeglasses are also made of different type materials like:
Plastic – Cellulose Acetate, Optyl, Cellulose Propionate.
Metal – Gold, Silver, Aluminum, Beryllium, Stainless steel and titanium.
Nylon – Nylon or blended nylon.
Natural Materials – Wood, Bone, Ivory, Leather.
Stone – Semiprecious or precious stone.
Specs are now considered as fashion accessories. So, no wonder we find different styles of specs in market. Popular amongst them are:
Browline glasses – These types of glasses were popular during 1950s and 1960's and derived its name from the fact that it has bold upper part of frame, in the similar way like eyebrows frame the eyes. These glasses lost its popularity sometime in 1970's but were back again by late 2000's as a retro style.
Bug-eye glasses – The term bug-eye glasses stands for square-shaped or rounder large glasses. They were popular in 1970s, 80's and later evolved to rectangular, thick framed ones in 2000s.
Cat eye glasses – These are women's eyewear and were popular in 50's, 60's amongst the fashionable women. It has an upsweep at the outer edges where the arms join the frame front.
Horn-rimmed glasses – These glasses were originally made from horn and tortoise shell but later were made out of thick plastic and were characterized by bold appearance on the wearer's face.
Lensless glasses – Interestingly these are specs which lack glasses and are solely worn for fashion purpose. These are generally over-sized and black in color. This trend had become popular in Japan in 1990's and died our later, but has resurged recently in China, South Korea and Taiwan.
Prince nez – This style of glass was popular in 19th century and consist of lenses which are supported without earpieces and just by pinching the bridge of nose.
Rimless glasses – Probably the most popular glasses these days, rimless specs are mounted directly on the bridge by a series of screws or hollow plastic double rivet rather than being secured inside the frames.
Now that we are aware of different types and styles of glasses available, we can look into few tips that can helps us select a right one depending on our usage, face cut and even hair color:
The first step is to decide what type of face cut you have since everyone's face is different and your face shape will decide which style suits you the best:
Square face shape is characterized by strong jaw line with wide cheekbones and look good with rounded or aviator-shaped glass frames. Curvy styles also work well with this face cut. If you have strong features as well go for bigger frames. Oval or round frames with great edges are a good idea.
For a round shaped face it is better to go for frames wider than the broadest part of your face. Soft and angular styles will put your temples higher and make your face appear long. Square and rectangular glasses would look good on you. Wayfarer specs are for you; their unisex appeal with bold prints and colors beautifully compliments round face.
Individuals with oblong face shape should keep away from too angular frames and opt for round or square shapes. Aviators would suit you; just make sure you pick up spectacles with good girth.
A pointed well defined chin, wide cheek bones and forehead are features of a diamond shape face. Choose frames with angles outwards, to balance your jaw-line. Opt for small and neat frames. Wayfarer with an array of colors and best for small features.
Almost all styles can suit well on an oval shape face. Medium to large size look good on your face cut. Details on arm, embellishment and color blocking and dark or cat-eyes lenses can give you an awesome look.
Skin tone also determines the style of glass that would look better on you. If you have a very light toned skin go for warmer tones like cypress and Bourbon and if you have pinkish skin opt for dusk, blush colors. People with medium undertones can select amber fade or soft greens like fern. Those with warm tones should select colors like orange, tangerine, plum or blue colored frames.
Frame color, material, shape play a crucial role in determining the eyewear style. Plastic frames with bright colors give you a cool, youthful look while real wood finishes make you look sophisticated. Classic glasses are timeless and do not follow any fashion, they suit well for regular use. If you wish to sport a retro look go for thick edges, brow line or cat eye glasses.