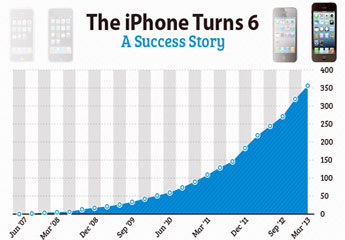 iPhone, a smartphone which everyone would like to possess. More than a status symbol it has now become a matter of pride for iPhone lovers. It is the product line of Apple Inc. which comes with pre-loaded Apple iOS operating system. iPhone was launched on June 29th, 2007, and since then it had been setting new sales records with its every versions. Till date we had 5 versions of Apple iPhone and finally on September 9th, 2014, people were introduced to the 6th version named as iPhone 6.
It comes with an intuitive user interface (UI) along with multi touch screen and virtual keyboard. The phone is equipped with features such as Wi-Fi, GPRS, latest version of 4G and UMTS and many more. The first generation of iPhone was a GSM phone with a single button which has been consistent throughout the releases so far. The 3GS version added a faster processor to execute applications at a much faster rate and smoothly. The fourth release of the phone upgraded the resolution to a unique 'Retina Display'. With the subsequent releases, many upgrades were later on added either at a firmware front or hardware front. Apple iOS mobile operating system was also updated in due course to match the former upgrades. The application market for iPhone – the App Store is ranked as the world's second largest mobile software distribution network of its kind. The astonishing sales figures of iPhone has given the world of smartphones a new shape altogether. Moreover, it is regarded as the top selling phone in its kind in countries like USA and Japan. As reported from the sales report of March 2014, the company has sold around 500 million devices.
Of the several versions and generations of iPhone released so far, iPhone 6 has proved to be a grand success story of all times. On the day of launch, pre- orders of the product exceeded 4 million within the first 24 hours itself which was a record in the history of Apple. The next record was set when more than 10 million phones were sold in first three days. The launch also witnessed Apple's introduction of mobile payment platform – Apple Pay, along with its entry into the segment of wearable computing which featured Apple watch.
iPhone 6 comes in two versions- one being iPhone 6 and the other is iPhone 6 Plus with increased screen size. It is inspired by iPad Air which is seen in its curved edges of the display. Both the versions are thinner than their predecessors. The display is upgraded to 'ion strengthened' Retina HD display. The phone is equipped with dual core 1.4 GHz cyclone processor and also Apple A8 system-on-chip and M8 motion co-processor. M8 differs from M7 in a feature wherein it can collect data from barometer to measure altitude changes as well. Overall these changes in the processor and sensors have made the device energy efficient and less heat radiating along with the increased graphics performance. The LTE support in iPhone 6 has increased for more than 20 LTE brands which is 7 more than iPhone 5, along with improved performance in its Wi-Fi connectivity. The rear camera in the device comes with a new sensor as well along with phase detection autofocus and optical image stabilization.
As far as the software is concerned, iPhone 6 comes pre-loaded with latest Apple mobile operating system, iOS 8. The apps will now be able to make use of the increased screen size to make the UI more intuitive. Apple has also considered the option of using iPhone 5 apps in their latest device by means of identical aspect ratio. An improvisation has been made in terms of accessibility by adding 'Reachability' gesture which would allow the users to slide top half of the screen's contents to bottom half by double tapping the Home button. 'TechRadar' has given good feedback and review on the device owing to its improved battery life, intuitive UI and smarter design.
Few reasons can be listed why iPhone has come out to a huge success story in the history of Apple. They are:
Both iPhone 6 and iPhone 6 Plus has increased screen size with improved resolution.
Better UI with the recent, latest and improved operating system- iOS 8/Yosemite.
Better connectivity owing to its improved Wi-Fi, LTE support.
Better Camera and recording features.
Better design as its being influenced by the Apple iPad Air.
Better battery life owing to an increased battery power.
Better screen which gives good clarity and quality even in direct sunlight.
Interestingly as per the report from Consumer Intelligence Research Partners, in the quarter post release of iPhone 5 approximately 85% of iPhone owners wanted to upgrade their devices. The same was expected from the iPhone 6 launch too as per the comment from the company. Bigger screen has had been a selling feature as compared to other smartphones in the market. This feature in latest iPhone was one of the features which can give it a recommended buy for the consumers. At the same time, Apple's plan of having global rollout also helped them to reach out to maximum consumers at the same time and boosts the sales figures. Also as the history of Apple says, the sales numbers has reached new heights with every release of iPhones. This was supportive of the fact of its pre-orders exceeding the stocks.
iPhone though comes with 'Better' features than its predecessors, it has to beat its rival company's smartphones in terms of performance and usage. This will make Apple iPhone 6 a true success story indeed.