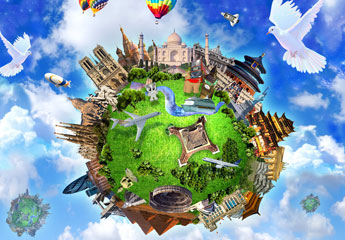 "Around the World in Eighty Days" is a classic adventure novel published in 1873, which describes the exciting and fun-filled journey of Phileas Fogg and his newly employed French valet. This book is a good read and also an inspiration to those who wish to travel the world. Well, today if we wish to explore the world in 80 days it wouldn't be much difficult with advancement in transport system, access to desired information and many more places to discover. We have tried to gather a list of few such must visit places which would be helpful if you plan to take one such journey.
Let us start out journey from east, moving through Mediterranean regions, and then exploring culturally rich European countries followed by glimpse of Scandinavian countries and then taking a long vacation in United States of America and Canada.
Japan – This land of rising sun is located in far-east. Japan has a perfect blend of rich culture and technological advanced and modern lifestyle. Tokyo, the capital; Kanazawa, historic city of West Coast, Sendai; Mount Koya; Soda Island, Japanese Gardens and Yakushima, the UNESCO site are few must see places here. Japan has one the best transport systems in world, and moving around places is quite easy here. Do not forget to try the famous Sushi dish and fermented alcoholic beverage Sake. You can probably plan 3-4 day stay in here.
China – A vast country of Asia and the one with world's largest population has roughly 4000 year old culture. If you wish to go around the entire country it would for sure consume a lot of time, but if your duration is confined you must make sure you catch a glimpse of Guilin, a scenic place; Hangzhou, a beautiful city; Shanghai, a perfect riverside cityscape and of course the Great Wall of China. Plan a short 4-5 days trip to China to touch upon the major spots.
Malaysia, Singapore – Malaysia and Singapore are spectacular countries in Asia which surely deserve a visit in during your journey. Kuala Lumpur, Johor Bahru, Ipoh, Malacca are few cities you should check out in Malaysia apart from the famous tourist destinations that includes Cameron Highlands, Fraser's Hill, Penang and Redang. Singapore is an awesome place with colonial core, its museums, statues, theatres, shopping malls, gardens as well as Jungle safaris are worth a visit. Do enjoy the famous cuisine and culture over here. We guess 3-5 days are good enough to enjoy a fun-filled and relaxed trip here.
India – You cannot of course miss visiting India when you are so close to it. India is a land of varied culture, geography, religion as well as cuisines. Each state here has something to offer and even week duration cannot probably do justice to all places. But with less time in hand you can select the place that best suits your interest. Head to Goa for tranquil beaches, plan a visit to Kerala if you wish to witness untouched nature and ayurveda, visit Rajasthan to get a feel of royalty and palaces and turn towards Kashmir for beautiful surrounding accompanied by scenic beauty. Make sure you try cuisines at each of this place to delight your taste buds.
Egypt – As you slowly move away from East, Egypt and surrounding countries will catch your attention. Egypt has been a tourist hotspot for ages owing to the ancient Egyptian culture; ancient churches, mosques and monasteries and the famous pyramids. Egypt has lot to offer to its visitors and few of the tourist places here are Cairo (home of Giza Pyramids), Luxor which is popularly known as Valley of Kings, Hurghada, Abu Simbel and Taba Heights. A week stay in Egypt can help you explore the place and take cruise rides to nearby countries like Cyprus, Lebanon or Turkey.
Turkey – Turkey is a stunning country with array of beaches, Mediterranean culture, beautiful architecture and impressive rock tombs and ruins of ancient civilization. Getting around the cities while interacting with the locals can be a fun activity. You can walk around the beaches, take up a sport like skiing, witness the mesmerizing architecture while strolling around the city, munch on the mouth-watering cuisine and shop to her heart's content. Have a wonderful vacation of 4-5 days here, though more the merrier will always hold true for this destination.
France – A strict no-no to miss is France. Without enjoying the beauty of this country your trip would lose some of its charm. Paris, Lille, Bordeaux, Lyon and Toulouse are few cities to visit. Eiffel Tower, Disneyland Paris, French Alps, Loire Valley, Verdon Gorge are other favourite tourist spots. France is a country which has something to offer for everyone, romantic places, rich architecture, splendid museums, beautiful gardens and other iconic monuments are a delight to couples, history and art lovers and also for those who chose the company of nature. Spent few days around here to enjoy it to fullest.
Spain – Spain is a diverse country with second largest number of UNESCO sites. Great beaches, exciting nightlife, multi-cultural atmosphere, awesome shopping outlets and fantastic museums here, will definitely enchant you. Madrid, Barcelona, Cadiz, Almeria and Granada are beautiful cities to be visited. Make sure you try varied food items, glimpse into the culture, and shop at the famous outlets and visit at least a few museums before you embark on your further journey.
United Kingdom – The United Kingdom of Great Britain is an interesting tourist destination. UK welcomes you with world-renowned spots and awesome cities. London, Birmingham, Bristol, Cardiff, Liverpool and Manchester are just a few on the long list. Giant's Causeway, Isle of Arran, Loch Ness and wonderful national parks are a must see places. This place can make you stay for a week and keep you longing for more.
Finland, Norway and Sweden– These Scandinavian countries present a beautiful sight to visitors with few world heritage sites, castles, museums, picturesque country sides and loads of skiing resorts and national parks. A small trip of 3-5 days can give you a good idea of the uniqueness of these places.
Brazil – Famous for football and annual Carnival at Rio de Janeiro, Salvador and Olinda, Brazil is also known for its diversity, landmarks such as Iguacu Falls, Amazon rainforest and jungle safaris. You can experience vastness of nature here with enormous variety in flora and fauna and opportunities to see eco-tourism and tropical islands in Brazil.
United States of America – Journey around world will surely not be completed without spending time in United States of America. USA, like many other countries varies widely in terms of geography and biodiversity. Boston, the colonial capital; Chicago, architectural gem; Las Vegas, the famous Sin city; New York, known for its skyscraper; Los Angeles, home of film city; Seattle, destination of wonderful museums, monuments and recreational opportunities and San Francisco, the Bay city are must-see places. And you cannot afford to give a miss to Denali National Park, Grand Canyon, Niagara Falls, Walt Disney World and Yosemite National Park. A fortnight may also sound less to explore all these, but nevertheless should suffice for a quick visit to at least few.
Canada – Canada is another vast country to explore. Untouched nature, snow-clad mountains and rich natural beauty make it a major tourist destination. Ottawa, Calgary, Montreal, Quebec, Toronto and Vancouver are distinctive cities to visit. Do not forget to plan a trip to the national parks, beautiful Cape Breton Island and Niagara Falls. A week's tour probably is good enough here.