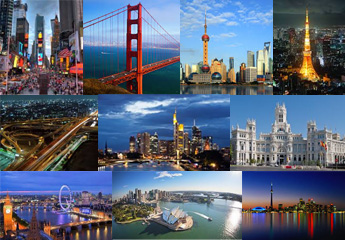 Business always interferes with pleasures but it makes other pleasures possible. Going by this statement, we have listed common business travel destinations and few suggestions to make a business travel a pleasure trip.
New York – Soaring skyscrapers, monuments, famous buildings, flourishing arts, fashion and fabulous nightlife, New York seems to cater to the taste of different types of travelers. Whenever you get time to go around the city do not miss American Museum of Natural History and Metropolitan Art Museum, if you are history lover. Ellis Island, Brooklyn Botanic Garden and Bryant Park are few awesome spots for nature lovers, and not to forget adding the iconic Fifth Avenue, Empire State Building and Statue of Liberty to your list. Apollo theatre and Metropolitan Music House are other interesting places. Also try and get a glimpse of New York's splendid nightlife.
San Francisco – San Francisco is a birthplace of several big companies, renowned colleges and many startups. This awesome city has lot to unfold. The best way to go around the city would be by hopping in an open top bus. Fisherman Dwarf, Downtown, Golden Bridge, Muir Woods and Alcatraz are few places to explore. Apart from these try to visit the beautiful town of Sausalito, take a trip in the cable car, enjoy a tour to the wine country, spent some time at California Academy of Science and enjoy the street side food. You can also visit few interesting places around Bay area like Yosemite National park, Monterey Bay and Caramel.
Shanghai – Shanghai is a quite a known place to all business travelers and is also gaining popularity these days as a tourist destination owing to various attractions which are a combination of historic relics and modern architecture. What to see in Shanghai depends a lot on your time schedule and interest. You can visit Yuyuan Garden in Old city, Shanghai Museum in People's Square, Stately old buildings, the famous oriental Pearl Tower, beautiful Zhujiajiao Water Town which has a 400 year old bridge and few such interesting places. While you are here try to snatch some time for walking down the old towns, visiting the colorful monasteries and enjoying the Chinese food.
Tokyo – Tokyo is a magnificent city offering enormous options to explore. Tokyo can be largely divided into 4 parts. Central Tokyo consists of Main residence of Imperial family, Landscape gardens and few commercial places incase you plan to buy some gadgets. Western Tokyo is a hot destination for teenagers and has many shopping and entertainment hangouts as well as spacious public parks. Northern Tokyo enchants you with old towns, beautiful Japanese gardens, temples and museums. While the Southern one is more of a commercial and modern centre. Visit places, try sushi, soak into local sento, explore the nightlife or watch a baseball match and make the most of your trip to Japan.
Bangalore – Bangalore – The garden city of India is a beautiful place with a very pleasant weather. The must see list consist of the enchanting Lalbagh Botanical garden which displays several varieties of flowers, Cubbon Park known for its lush green areas and exotic trees, the beautiful Bangalore palace inspired by England's Windsor Castle, Tipu Sultan's summer Palace, and of course the rock cafes and huge malls. And incase if you have a weekend to spare, consider visiting Coorg, a heavenly hill station; Mysore, known for a grand palace, Pyramid Valley, Nandi Hill or Jog Falls. Bangalore and its surrounding will surely surprise you with enormous beauty, varied culture and excellent cuisine.
Frankfurt – Frankfurt is the business and financial centre of Germany. Frankfurt is also a cultural and historical hub of Germany and has several historical monuments, huge museums, art and music centers and high rising skylines. Few historical attractions which are worth visiting are Romerberg – old centre of Frankfurt, Dom- the main cathedral build in Gothic style, Eiserner Steg – well known pedestrian bridge. If you have a taste for Museums Frankfurt will surely delight you with Architektur, Deutsches Film-museum, Städel-Museum and several others which house collection of beautiful artifacts, sculptures, painting and contemporary items. Frankfurt also has Europe's highest buildings namely Main Tower, European Central bank and Henninger Turm. Enjoy your stay in Frankfurt visiting these famous places, attending some cultural programs and watching ice hockey games.
Madrid – A trip to Madrid, the capital of Spain will surely be much more than a mere business trip. Madrid is located at the altitude of 2,100 feet and is the home of Europe's finest shops, world class art galleries, worth-seeing museums, traditional Flamenco Dance and of course the famous bull fights. Few must see places here are Puerta Del Sol – the famous bear statue, Palacio Real – the beautiful palace, Prado Museum – known for its painting collections, Plaza Mayor – marvelous historic site and The Gran Via – a street full of lovely architecture. You can also check Flamenco shows, Operas and if you are visiting Madrid during bull-fighting season it's a must see. Madrid is a paradise for shopaholics with several options to match your taste.
London – London is a huge, vibrant and multicultural city. London is long known as a tourist destination and can make your business travel quite pleasing. London Eye is a major tourist spot offering breathtaking view of more than 55 London's famous landmarks in just about 30 minutes. Buckingham Palace is no doubt a must see. Tate Modern is located on the banks of Thames and is Britain's national museum of contemporary and modern art. National Gallery, National Historic Museum, Tower of London and Tower Bridge are few other good places to visit. London is also reputed for wonderful parks, try and see a few of them. You can enjoy several things in London and shopping tops your list. You can possibly find here everything you want.
Sydney – Sydney, popularly known as Harbour city, is the largest, oldest and most cosmopolitan city in Australia. A trip to Sydney is quite enjoyable as the city brims with nature, scenery, culture, art and cuisine. You can witness the landmarks like Sydney Harbour Bridge, Sydney Opera House, Luna Park and Sydney Towers. History lovers can make most of their trip by visiting the preserved sites of The Rocks, Parramatta or taking a walk from Manly to Middle Head. If wildlife fascinates you, Sydney is a paradise. Taronga Zoo, Koala Park Sanctuary, and Australian Reptile Park as well Whale Watching are few things you can experience here. And do not miss on the wonderful Australian Cuisine.
Toronto – Toronto has lot to explore if you have time in hand. Apart from art galleries, sport and science freaks can visit several scientific and hockey museums. A beach side walk or even a random walk along the downtown can be a great way to spent time and acquaint you with the beauty of the place. Toronto also has localized towns belonging to various ethnic groups like the little India, Chinatown, Koreatown, Little Italy and Portugal Village. You can also enjoy ample of shopping opportunities.