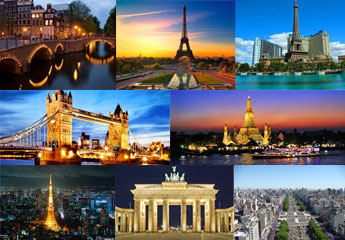 When sun goes out few cities come alive. Bars, clubs, night shows, casinos add colors to these iconic cities and make them enjoyable for night owls. Let us check few such cities around the world where party time never seems to stop:
Amsterdam – Best known as Red Light District, Amsterdam has several unique things to offer for night lovers. A 1930s-style art house, The Movies, cinema theatres, special night bars are few activities to enjoy here. Music lovers can visit Paradiso, which is a famous contemporary music venue with live performance. And if you love exotic liquor you must surely visit Wynand Fockink, a 17th century-style tasting house which offers best Dutch liquors. Amsterdam is known for its wild parties, so make sure you enjoy to fullest when you visit this wonderful place.
Paris – Popularly known as City of Lights, Paris comes alive after the clock strike midnight. A trip to the Moulin Rouge, an awesome cabaret show while enjoying fine champagne, a luxurious meal at a fabulous restaurant or enjoying your time at Club Silencio, a secret night club which admits only a selected few of general public after midnight are must-do things here.
Las Vegas – Las Vegas, the famous Sin City of Nevada comes to life after the sun goes down. This is a place where you can indulge in all sorts of nightlife activities like drinking in bars with extensive cocktail menu, relishing your time in casinos and of course watching the mesmerizing shows hosted by the hotels. Bellagio Fountain, The Venetian, Neon Museum present an enchanting sight. The Strip, a famous lane here looks more like a theme park with beautiful hotels and overwhelming decorations. Las Vegas is a place for all pleasure-mongers who can leave behind their inhibitions and enjoy the city to fullest.
London – A city with no shortage of nightlife and it has something for everyone. May it be a comedy cabaret or a swanky boutique bar or a live jazz music at Berkeley Hotel, London has enormous things to offer. The traditional pub at Jerusalem Tavern with a laid-back atmosphere which creates a convivial drinking environment is worth experiencing. Blue Bar is another much sought out destination with dusky blue walls and romantic décor for an upscale drinking experience.
Bangkok – An Asian delight, Bangkok is known for being rowdy after the lights go off. Of the several worth experiencing things in Bangkok, these are a few – a visit to the roof top cocktail lounge offering a beautiful view of city at State Tower of Sky Bar, enjoying and intimate drinking experience at Le Derriere where décor is reminiscent of 1920s Paris and spending time at sophisticated and modern bars. Bangkok has several luxurious clubs and bars and is not doubt a hot bed for nightlife.
Tokyo – Another Asian destination which never fails to delight its tourists with an amazing nightlife is Tokyo. It's a paradise for music lovers with varied options like live music at bars, traditional Japanese Kabuki music and music at Sweet Basil 139. You can also watch national and international acts at some upscale jazz pub. Kamiya Bar is a popular hangout and is the city's oldest Western-style bar. It is also home to Denki Bran, a liquor from Tokyo which is made of gin, red wine, brandy and curacao.
Berlin – Berlin is a stunning tourist destination. Its night life and day time sightseeing both are equally impressive. Most of the late night venues in Berlin are open until early hours of morning. Enjoy your drink at Victoria Bar's intimate, 70s style lounge or Green Door – a retro lounge.
Buenos Aires – For a nightlife filled with live music, exotic food and eye-catching shows, head to Buenos Aires. The tango cabaret show, live orchestra, a visit to Notorious jazz bar and awesome dance show by waterfront are not to be missed. Buenos Aires offers a unique mix of European and South American culture with fertile ground for lively nightlife.
Montreal – Montreal is city that boasts vibrant nightlife. Especially for cocktail lovers, Le Lab is a must try, where an expert would serve you with most creative drinks that you would have ever had. And if you relish fine wine, then visit Pullman, a sophisticated wine bar with an elegant and classy ambience. Old World Cafes, jazz clubs and packed discos add colors to this place. Combine your exotic drinking experience with cabaret and make the most of your visit here.
Madrid– The beautiful city of Madrid never sleeps. It is known for its all-night parties, gin and tonic bars, and lavish hotels. Make a visit to Arzabal for classic tapas and unique gin and tonics. You can also try Gin Rooms which offers unusual brands of gin in a stylist environment. And then there is La Terraza at Urban Hotel which has over 30 gin and tonic pairing to offer.
Tel Aviv – Last but not the least on our list is Tel Aviv, which has been gaining popularity for its endless bars, pubs and cocktail venues that fill up its nightlife. Fun here begins after 11pm and continues till early morning hours. Funky parties and crowded nightclubs filled with those who enjoy dancing, and dozens of entertainment hotspots add to the enjoyment. Tel Aviv has relaxed air, is gay friendly and modern.