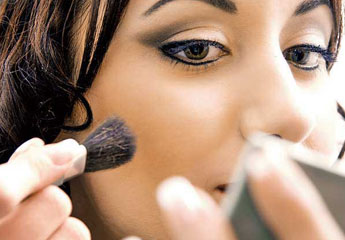 Several websites provide tips for wearing makeup. Sometimes assimilating these tips can be overwhelming. Makeup depends a lot on factors such as your age, complexion, face cut, seasons, occasions and many more. We have tried to compile few dos and don'ts here-
Dos
A correct foundation is a key to good makeup. Make sure you use the one that matches with your skin tone. Apply foundation from your cheek to above.
Use complementary makeup colors. If you are using a brown colored lipstick apply a blush of similar color family.
Use a soft black, grey or a brown shade to enhance your eye lashes.
Wear eye shadow to define your eyes; do not use an eye shadow that matches your eye color.
Use professional makeup brushes. A high quality, full-size brush will surely give a beautiful look.
And check your makeup in a magnifying mirror. It gives a chance to see fine errors and a little stroke can take care of it.
DON'Ts
Do not wear full makeup daily. Foundation, concealer, lipstick, blush and a little mascara should suffice for a daily look.
Do not overdo mascara; make sure it is not clumped.
Do not apply too much of lip gloss it spoils the look.
Too much of glitter and shine is fine for an evening party but during day it looks distracting.
Overuse of blush or patchy blush should be avoided to give a better look.
Apart from the general dos and don'ts few points should be considered based on the season. In summers, you have to take extra care of your skin. Exfoliating and applying too much moisturizer should be avoided. Use less foundation or concealer, shield your skin with sunscreen to prevent damage. Use smudge-proof eyeliners and mascara. A slight pink or peach blush for a fair skin and plum or coral one for dark complexions will suit well. Do not apply shiny translucent powder in summer.
As summers, makeup in rainy season also needs special attention. Opt for natural look during rainy season, however if you plan to apply makeup make sure you use waterproof lipsticks, eyeliners and mascaras. Go for cream eye shadows and blush instead of powder based ones. Bright colors are for this season so wear them confidently. However, do not add unwanted shine and gloss.
A right makeup looks pretty and smart, while a wrong one can spoil the look entirely. So be careful about what you wear and select your products wisely.