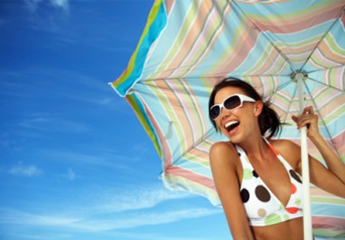 Summer brings with it heat, sweat, lazier days but also ice creams, tan and summer outings. In some regions around the world summer is a relief from intense winter, a much awaited season to enjoy nature, dress as per your desire and relish variety of foods. However in tropical areas, it can be very hot and unpleasant. Whichever region you might belong to few summer tips will always be helpful.
Especially in tropical or desert areas where mercury can shot up to blast furnace temperature, you need to be extra careful about your health.
 
Priority is to remain rehydrated, as summer can deprive your body of water due to heat and sweat. Consume plenty of water; you can also opt for coconut water, fruit juices and other low calorie drinks.
Eat lots of fresh fruits like melons, smoothies and salads.
Hot summers can also cause headaches, avoid going out in sun for long hours. Wear a hat or cap along with the sunglasses to protect your face and head. In tropical areas, people also opt for scarves to cover their faces and head, as well as sun coats and gloves.
The kind of clothes you wear will have a big impact on your health. Prefer lose cotton clothes which will fully cover your body to avoid unwanted sun exposure and sun burns.
Use of sunscreen with higher SPFs, lotions is necessary.
Take care of your hair, oil them occasionally and cover them when going out in sun
Last but not least, enjoy summers, go out for swimming, and visit a hill station, relish ice creams and seasonal fruits to fullest.
Summers may not be that bad in some regions. In such places you can have fun during summer time. However you still need to take care of your health,
Try to increase your intake of water or juices to remain hydrated. Smoothies are also a good option, but keep a watch on the calories.
Apply sunscreen while going out.
Don't skip your exercises routines, just because its summer. Opt for walking or other outdoor exercises.
Wear comfortable clothes, you don't have to worry about jackets and snow coats now.
Eat healthy fresh food.
Take up a new hobby like gardening.
Get tanned, enjoy swimming, and spend time on beaches.