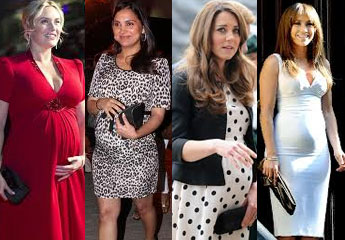 Gone are the times when ladies tried to hide their baby bump. Today celebs all round the world love to flaunt their blossoming bump with grace and confidence. These celebrities are a good inspiration to others while they wear the classy maternity wear and feel fabulous about their baby bump. Pregnancy is the best phase in life of any women, and the extra glow as well as happiness that it adds to them makes them look all the more wonderful. Here is a list of few such celebs, who managed to look marvelous and cheerful in spite of the morning sickness, nausea, fatigue and other symptoms.
Kate Winslet – This Oscar winning actress shot for a film-Divergent while she was five month pregnant and she did it quite gracefully. She vowed on the red carpet in a full length midnight blue gown on the premiere of her film "Labor Day" at 2013 Toronto Film Festival. Her dark denims with simple black top and matching blazer looked great on her. She is one of the actors who did not let pregnancy hinder her profession and looked stunning in all her public appearances.
Lara Dutta – Former Miss Universe and Bollywood actress Lara Dutta has been always fashion conscious and she put her best foot forward during the pregnancy. From the knee length causal dresses to the traditional Indian wear like sarees, she looked amazing in each of her outfit. She even walked the ramp in a beautiful outfit during pregnancy. She also promoted prenatal Yoga during her pregnancy and had a DVD released on the same. And surprisingly she got back in shape very soon.
Kate Middleton – Probably one of the best dressed celebs during pregnancy Kate Middleton chose her outfits pretty well. The Duchess of Cambridge dressed her royal bump in elegant ways on several occasions. From demure dresses to covetable coats she sported her dresses confidently. Her green Mulberry coat during a parade in London, a peach coat over a nude dress in an event in London, a stunning navy blue outfit for the 150th anniversary of the London underground and a casual polka dot during regular occasions, Kate seemed to have got it right always. As she looks forward for her second child, we cannot wait to watch her collection this time.
Jennifer Lopez – Another beautiful woman who dressed to kill even during her pregnancy is Jennifer Lopez. Her designer Robert Cavalli designed several lose fitting flowing outfit for the 38 yr old singer. Her red carpet walk in a perfect black gown, cottony long dresses on several occasions clubbed with high thigh boots or simple flip flops make her look stunning. She was not seen wearing too baggy or weird clothes, but wore outfits which made her look comfortable and cute.
Padma Lakshmi – A hot looking celeb Padma Lakshmi gets food and fashion together. She managed to look extremely pretty and fashionable all through her pregnancy. All her public appearances displayed right costumes teamed up with perfect makeup and accessories. She looked awesome in several occasions wherein she adorned long gowns with bright colors.
Angelina Jolie – Angelina Jolie, the beautiful actress looked gorgeous during her pregnancy in an array of maxi-dresses which she wore. From bright taxicab – yellow dress to black figure – disguising trench coat for special event and simple denim and t-shirts for casual outing, Angelina looked every bit of chic. She was always spotted looking comfortable and at ease in her beautiful outfits. Her baby bump did make her look glamorous with the right clothes which enhanced her curves.
Carrie Underwood – Carrie debuted her baby bump recently while performing at the Ravina Festival. She was wearing a floral jumpsuit designed by Katherine Feine and look cute and at ease in her outfit. Though the bump is just a hint now, there is much to look forward from this stylish singer.
Olivia Wilde – Olivia recently welcomed her bundle of joy, but before he was born she amazed us with her maternity style. Sporting casual jackets with a simple Tee and leggings, faux leather blazers, knit wears, made this to-be-mom look fashionable. Her flowing maxi dresses, figure-hugging emerald gown made it to the list of best dressed celebrities.
These celebs along with few others like Big Brother Season 5 winner Shilpa Shetty, singer Gwen Stefani, Spice girl Victoria Beckham, TV personality Nicole Richie, and German model Heide Klum have taken the maternity look to the next level. From figure disguising maxi-dresses to figure fitting gowns, from lose jackets to simple tops these to-be-moms have managed to look graceful in their attires. Carefully selected accessories with comfortable foot ware add charm to their looks. And for all those who wondered whether pregnancy would take away the glamorous looks from these beauties, they proved them wrong.
Magic mantra for looking fabulous is within the motherly soul inside you. Discover her and let the world see your glamourous side, even when you are ready to embrace motherhood.