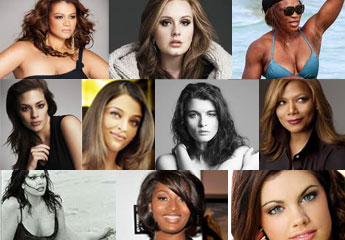 A beautiful woman is very often described as one with good complexion, a nice face cut, gorgeous hair and most importantly someone with an hour glass figure. However we see a lot of plus-size beauties as well, who carry themselves confidently and gracefully. Overruling the conventional attitude, many supermodels, sportswomen, actress, and other celebs are flaunting plus-size bodies.
Following is the list of such famous chubby beauties:
Christina Mendez – Christina Mendez, a brown-eyed beautiful model was the first Hispanic real-size model who featured in several fashion campaigns. She was also the first full-sized Hispanic model for clothing brands such as Baby Phat, Apple Bottoms, Ashley Stewart, Rocawear and Dereon. She was named as the most notable plus-size model in the industry by Fox News in 2009 and The Source declared her as the most influential Latinas in fall 2009. This super model has broken down several barrier and contemporary notions regarding full-size models. Christina participated in high-profile fashion events confidently, wherein Real-size-models were not appreciated well. Apart from the beautiful body she also has a kind heart and supports several charitable organizations.
Adele – Adele, a big name in pop industry with credits of selling over 20 million albums and winning eight Grammy awards and a solo Academy awards. This beautiful chubby pop music superstar has also appeared on cover of Vogue and was included in People's magazine Most Beautiful issue. Her plus-size figure did not restrict her from either being a pop star or featuring in reputed magazines. Her unconventional looks, pouty lips and blonde hair make her look awesome and stunning. In fact the singer told Rolling Stone, "even if [she] had a really good figure, she'd get her ass and tits out for no one."
Serena Williams – Serena Williams is world's No. 1 ranked women's professional tennis player in singles circuit from America. She started her career at a very young age and despite the ups and downs managed to gain an unbeatable position in Tennis world. She is not only celebrated sportswomen, but also a beautiful lady. This 5-foot-9-inch, 155-pound superstar may have a muscular body, yet her curves do make heads turns her way. She has constantly shown her inner strength, perseverance, and dedication thus gaining fame and respect. Though, Serena (as she once mentioned) felt disheartened initially for not possessing a slim and tall figure, yet over the years she learnt to appreciate her voluptuous body and athletic legs. Recently her beach day photos are a big hit on website and no one can but ignore her amazing curves and sexy looks.
Ashley Graham – Ashley Graham is a plus size model, best known for lingerie modeling for Lane Bryant store. She is 5-foot-9-inch and size 16. She has appeared in several popular fashion magazines like Vogue, Harper's Bazaar, Glamour and Latina. Also, she has done everything from editorial, catalogues, runway, commercials and television/movie. This beautiful and bold model has been quite successful in her career and being plus size served as an advantage to her throughout in the profession.
Aishwarya Rai – Well, we thought if we should include this former Miss World and a popular Indian actress in the list, as she is not exactly a chubby one. But her post-delivery weight gain did make her a soft target for critics, fashion police and media. She managed to shed those extra kgs now and looked bewitchingly beautiful in Cannes 2014. However, even while she had those plus size curves she looked awesome. Her beauty combined with a good sense of dressing made her look beautiful and she effortlessly dazzled the red carpet. She never bothered to give in to pressure of losing weight, ignored sarcasm and comments regarding her weight gain and enjoyed the crucial phase of her life and womanhood to fullest. Her dignity, grace and elegance never lost its charm and she looked stunning in all her sizes.
Crystal Renn – Crystal Renn is a successful plus size model who appears in multiple editorials in each of Vogue's U.S, Italian, German and French editions. We may find it difficult to believe, but she suffered from anorexia when she started her career. However once she regained her health, she did put on few kilograms and became a plus-size model. This full-figure model soon became the face of several brands like Lane Bryant, Evans, Torrid and few others. She is also the first plus-size model to appear on cover page of Harper's Bazaar. Crystal, a size 12 model has also a proud participant of several runways including Vena Cava, Heartherette and Jean-Paul Gaultier. Interestingly, she is one of those models who gained popularity and success on gaining weight.
Queen Latifah– Dana Elaine Owens, popularly known as Queen Latifah is an American musician, actor and model, comedienne and talk show host. She is considered as one of the hip-hops pioneer feminists. She is also a celebrity spokesperson for Cover Girl cosmetics and Curvation ladies undergarments. Though Queen Latifah possesses a larger than life figure, she carries it off confidently and uses her curves as assets. She does not care about her size, but puts in tremendous efforts in her job and the fruits of her labour are visible in the form of her success. Being overweight never kept her away from achieving what she deserved.
Toccara Jones – America's fashion model, singer and an occasional television personality, Toccara Jones has modeled for several reputed brands. She was the eight contestants to be eliminated on the third cycle of America's Next Top Model, wherein she had won the title of 'Cover girl of the weeks' for five times. Jones has modeled for Ashley Stewart, New York and Company, Target, Vibe magazine and Smooth magazine. She is also popular on runway and participated in several prestigious ones including Hot 97's, BET Presents: Rip The Runway 2, Alice & Olivia Fall 2006 and few others. She was also selected to be a part of 2007 Rocawear 'I Will Not Lose' campaign showcasing Rocawear's plus-size line. Jones has also made few cameo appearances in movies & TVs.
Chloe Marshall – Chloe Marshall is a pretty blue-eyed English model from Surrey. She won the Miss Surrey title in 2008 and went ahead to participate in Miss England tiaraHo. She once said, 'Wanted to go through to the Miss England finals to break the stereotype that you have to be tall and skinny to be considered beautiful.' Marshall did not win the contest, but nevertheless was signed up by Model Plus agency. She featured in the cover of Plus Model Magazine and also signed a three year contract for Ford Model in 2010.
Natalie Laughlin – Natalie Laughlin made history when she featured on billboards in New York Times Square as first plus-size model. Gladly, this honor was repeated four times by the client Liz Claiborne. She was also the first plus-size model to appear on the cover in Glamour magazine (US. Edition). She is 5-foot-9-inch and a size 12-to-14. Being overweight did not cause any hindrance in her way to success.