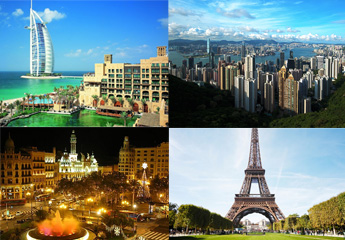 Shopaholics can shop anywhere and anytime, but knowing where to shop is an added advantage. Here is a list of few shopping paradise. These can surely be your next travel destination as well.
Dubai – Dubai does not have a historic record of being a hot shopping destination but is gaining tremendous popularity. Dubai has over 70 malls including Dubai Mall – the largest one in world. Dubai Shopping Festival which is hosted in Jan – Feb every year attracts shopaholics from all over world with discounts range of up to 70% on various products. Apart from this, the duty free retail shopping is popular.
Hong Kong – A popular Asian destination for shopping is Hong Kong. Watches, sunglasses, electronic items, jewelry and beautiful souvenirs are few things to indulge in here. IFC Mall, Pacific Mall, SOGO, Time Square, Harbour City, Stanley Market are some of the places which you can shop. Good bargains, high quality and affordability are the unique features of shopping in Hong Kong.
Madrid, Spain – An upscale shopping destination Madrid is famous for wide range of products from apparels to exotic wines. Luxury items, beautiful restaurants, expensive shops and variety of bars can be enjoyed over here. Madrid is rated as third most popular shopping place in Europe. Rebajas (sales) is something to keep an eye on.
Paris – This 'City of Love' is not only popular for scenic surrounding and beautiful architecture but is also admired as a shopping destination. Several designer stores like Louis Vuitton, Christian Dior, Sepharo are located here. Places like La Clef des Marques, Le Mouton a Cinq Pattes and Reciproque are known for shopping. Parisian open air market is also a must visit place for food markets, flea markets, flower markets, markets for fabric and clothing, vintage postcards and stamp markets and also antique books.
New York – Something for everything is the formula here. From street shopping to high end brands you get everything over here. Fifth Avenue, Madison Avenue and Soho are excellent shopping stops. Electronics, vintage clothes, branded apparels, and other exotic products are few things to shop for.