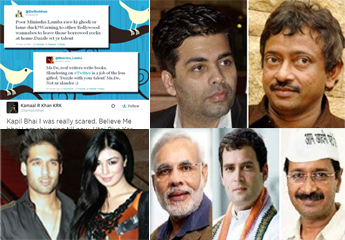 Twitter has always been a medium to express views and opinions through microblogging. It has emerged as a true microblogging site. Since Twitter's inception, it has witnessed free expressions of opinions. People have also started using this forum to express their anger and also fight openly in public. Here we tried to compile the famous Twitter battles which have grabbed people's attention.
MinisshaLamba Vs Shobhaa De: After Minissha failed to declare her Rs. 50K worth jewelry in customs, author Shobhaa De addressed her as a 'Lambe race ki ghodi  and Lame Duck' over Twitter. This was followed by reply from Minissha that Shobha should focus on her profession of writing and not slandering. Surprisingly this fight didn't last long over social media.
Kapil Sharma Vs KRK: Kapil Sharma is a famous stand-up comedian in Indian Television, whereas Kamaal R. Khan is an actor in Bollywood. It all started with KRK commenting on Kapil Sharma being approached by Film industry people for a film under the banner of Yash Raj Films (YRF) and making hilarious comments on Kapil Sharma. Based on the tweets received from Kapil, which was later on tweeted by KRK showed that Kapil threatened KRK of being thrashed inside his own house. Though these tweets were not seen in Kapil's account, it seemed that he deleted all the tweets to erase off this virtual fight with KRK.
Ram Gopal Verma Vs Karan Johar: The two celebrities of Indian cinema have never been friends and also their war over microblogging site has been very famous. It all started with a tweet from RGV over KJO's movies 'My name is Khan' and 'Kurbaan' as 'My name is Raavan' and 'Raavan ki Kurbaan'. The war went on for some time with series of tweets against each other making fun of respective movies.  At last KJO didn't leave a chance to insult RGV virtually by saying the area of 'Disaster' is his place and no one can ever replace him in the same.
Ayesha Takia Vs Sidharth Mallya: It all started when Ayesha's sister missed her Kingfisher flight due to misbehavior by the respective airlines staff member. On this Ayesha started tweeting and complaining against Kingfisher Airlines. Replying to her tweets, Vijay Mallya's son Sidharth seemed to be confused about Ayesha's identity. He posted a tweet in which he wanted to clarify if Ayesha is an actor or not. Quite strange war though!
NaMo, RaGa and Kejriwal war: With the fragmented audience in today's world the elections of 2014 witnessed an appropriate use of social media platforms for election campaign. Contestants Narendra Modi, Rahul Gandhi and Arvind Kejriwal left no stone unturned to use Twitter to publicize their opponent and their election manifesto. This publicity has also led to war of words against the respective parties with funky images of respective candidates.