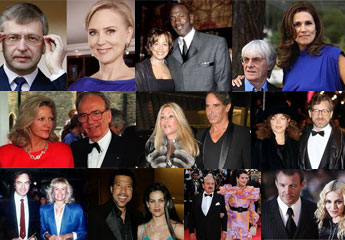 When marriages take a bad turn, couples suffer and end up in a divorce. Divorces for layman can involve a lot of bickering, moving into new apartment, legal issues over children custody, and battles over everything from kitchen appliances to the family cat. But celebrity breakups are much more complicated. They are covered by tabloids, fans follow them closely, and lawyers and managers play a very crucial role in the settlements and if the divorce involves splitting of a business it can affect the market as well. A lot of Hollywood breakups, divorces between big names in business and those involving famous sportsmen generally are considered as costly breakups owing to the large fortunes involved. Let us see few such famous and costliest breakups around the world.
Dmitry Rybolovlev's divorce from Elena Rybolovleva: Considered as the most costly breakups till date, it is estimated being around $4.5 billion. Dmitry Rybolovlev's is a Russian born businessman, investor, philanthropist with a net worth of $8.8 billion as of 2014. On May 19, 2014 Swiss court ordered him to pay $4.5 billion to his ex-wife Elena. 'Fertilizer king' Dmitry Rybolovlev had been married to wife Elena Rybolovleva for 24 years when the two started divorce proceedings in 2008. They have two daughters together. Ms. Robolovlev won custody of the couple's 13-year-old daughter and would be paid a $7.5 million lump sum and $150,000 – a month as child support. Along with this she also won half of their former home in Cologny and has been trying to claim few more properties as well.
Michael and Juanita Jordan divorce: The former Chicago Bulls star Michael married Ms. Juanita, a former model and executive secretary of American Bar Association on September 1989. They have 2 sons and a daughter together. Juanita had filed for divorce in 2002, citing irreconcilable differences, but withdrew the filing later. However in December 2006 Juanita's lawyer announced that have mutually decided to separate. They split 17 years after their marriage which cost Michael $168 million. Apart from this Juanita also received the custody of all three children and the couple's home in Chicago.
Bernie and Slavica Ecclestone: Bernie Ecclestone and his wife Slavica got divorced in 2009 with a settlement amount of around $1-1.2 billion. Bernie, a British magnate is the chief executive of the Formula One Group. He has been married thrice and Salvica Ecclestone is his second wife. Bernie married Slavica, a former Armani model and 28 years younger to him in 1984. The couple has two daughters. On Nov 2008, Salvica filed divorce which was granted in March 2009.
Rupert and Anna Murdoch: Keith Rupert Murdoch, an Australian American businessman married Anna Maria Torv, a Scottish born cadet journalist working for his Sydney newspaper in 1967. The couple was married for 32 years and had three children together. They split in 1999 and the settlement amount was approximately $1.7 billion. This was termed as the most expensive divorce in the world at that time.
Alec Wildenstein's divorce from Jocelyn Wildenstein: Alec Wildenstein was a French businessman, art dealer and racehorse owner. He married Jocelyn in 1978 and the couple had a son and a daughter together. Jocelyn had a scandalous divorce with Alec when he threatened her with gun. This resulted in a night in jail for Alec. Jocelyn received $2.5 billion in the divorce settlement and $100 million each year for 13 years thereafter. During the divorce, the judge stipulated that she could not use any alimony payments for cosmetic surgery, as she is quite famous for extensive facial surgeries.
Steven Spielberg and Amy Irving: Spielberg, an American filmmaker married Amy, an American actress in 1985. Four years after marriage they got divorced and Amy received $100 million as settlement amount after a judge invalidated a prenuptial agreement that had been written on cocktail napkin. The couple has a son together. At the time, the settlement was big news, and it was ranked among the top 10 lists of the most expensive divorce pay outs.
Neil Diamond and Marcia Murphey: Neil Diamond is an American singer-songwriter and one of the world's best-selling artists, while Marcia was a TV producer. They married in 1969 and had two children. After 25 years of marriage they filed for divorce citing clashing differences. The split tuned to $150 million which is half her ex's fortune. When questioned about the sum after proceeding Diamond famously quoted "She's worth every penny" and had helped him keep his sanity during the most difficult times of his career.
Lionel and Diane Ritchie: Lionel married Diane on December 1995. They have a son and a daughter together. After eight years of being together, they dissolved their marriage and it became a very much talked about divorce in media and gossip magazine. However, Diane said she has became accustomed to the extravagant lifestyle and requested for $50,000-per-month for manicures, massages and other beauty services, $15,000-per-month for clothing, $5,000-per-month for jewelry, and $20,000-per-year for plastic surgery, among other outrageous allotments. Though she wasn't successful in gaining this, nevertheless she walked away with $20 million as settlement.
Adnan Khashoggi's divorce from Soraya Khashoggi: Adnan Khashoggi, a Saudi Arabian businessman is considered as of the one of the richest man in world with a net worth of $40 billion. In 1960's he married Sandra Daly who converted to Islam and took the name Soraya Khashoggi. They have one daughter and four sons together. They spent 13 years together but parted in 1974. She received $850 million as a part of settlement. She had initially sued him for $2.54 billion.
Madonna's divorce from Guy Ritchie: A different yet worth mentioning divorce is that of Madonna and Guy Ritchie. Madonna married Guy in the year 2000 and eight years later filed divorce citing "unreasonable behavior". She paid Guy a sum of around $76-$92 million to end the union. This settlement is also considered as of the costliest ones of its time.