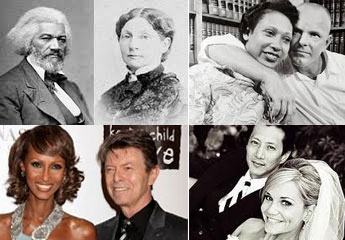 Interracial marriages are a commonplace today and most people would not even give a second thought. However, just a few years ago this was not the case and successful interracial marriages were a rare occurrence. Marriages between Black and an Asian, a White and an Asian, Hispanic and White or Hispanic and Asian or any such other racially different groups are known as interracial marriages.
Following is the few famous and successful interracial marriages.
Frederic Douglass and Helen Pitts married in 1884, at the time when interracial marriages were frowned upon. Frederick Douglass was an American writer, statesman and a well-known social reformer. He was son of a female slave and her white owner. He escaped slavery in 1838 and married a free African American woman Anna Murray. The couple had 5 children together. After Anna's death in 1882, he met Helen Pitt, a white woman with whom he fell in love. They married against the wishes of Douglass children and Helen's family. Though the marriage was not accepted willingly by the society, the couple loved each other and was happy together. Douglass marriage was in line with his belief in American unity and a desire to unite the cultures with United States. He once amusingly commented "This proves I am impartial. My first wife was the color of my mother and the second, the color of my father." The couple enjoyed a happy married life until Douglass died in 1895.
One of the most famous interracial marriages is that of Richard Loving and Mildred Jeter. Richard and Mildred who married in 1958 were responsible for overturning state laws in USA which prohibited the interracial marriages. Richard, 17 met Mildred, 11 at Virginia and as they grew their friendship blossomed into love. At the age of 18 Mildred became pregnant and the couple travelled to Washington, D.C. to get married. Five weeks after their wedding, they were arrested for being married to each other. In 1959, they pleaded guilty and were sentenced to one year of imprisonment. The sentence was suspended on the condition that Loving leave Virginia and do not return for 25 yrs. After they moved to Washington, D.C. they faced discrimination as well the pain of staying away from their families. Mildred wrote letter to Attorney Robert F. Kennedy who then forwarded it to American Civil Liberties Union. After several setbacks the case was eventually heard before U.S. Supreme Court, who gave the decision in their favor. Richard once said, "For the first time, I could put my arm around Mildred and publicly call her my wife". The couple remained married till Richard's death in 1975.
When David Bowie, a famous musician first saw his now wife Iman, it was love at first sight for him, though Iman did not feel the same. Iman Mohamed Abdulmajid is a Somali born actress, model and a noted philanthropist. Iman was a reputed model and appeared on several prestigious magazines establishing her as a supermodel. Iman is also well known for her charitable work and is a brand Ambassador for Save the Children. Though, (as Iman mentioned) David had been naming the children first night they meet, she fell in love with him gradually. Bowie won Iman's heart by treating her with respect and by being sweet. The couple finally tied knot on April, 1992 after 2 years of dating, in a private ceremony in Lausanne, and the wedding was later solemnized on June 6 in Florence. They have a daughter Alexandria Zahra Jones together, apart from 2 other kids from their previous marriages. This much in love couple celebrated their 22 yrs of marital bliss recently.
America's talented actor Will Yun Lee married his love Jennifer Birmingham, a famous actress in October 2010. Will Yun Lee best known for his TV roles in Witchblade and Bionic Woman along with on-screen roles in Die Another Day, The Wolverine was also named as one of the People's sexiest Men Alive in 2007. His wife is a beautiful actress and owns the credit for remarkable performance in All the Gear: No Idea! , Straight A's, How I Met Your Mother and so on. Will was born in Airlington, Virginia just after his parents migrated from Korea to USA. This hard working actor strived hard to gain a significant position in Hollywood. The couple looks awesome together and surely be considered as one of the gorgeous AMWF (Asian Male, White Female) couple. They welcomed their first child, Cash in June 2013. We wish them many more happy moments together.
Justin Chamber and his wife Keisha have been married since 1993. Justin and Keisha first met in 1990 when he was starring in ad campaigns for Calvin Klein. He was successful model and Keisha was then working at a modeling agency. They stuck chord and eventually got married. After 21 years of going strong Justin mentions he shares a strong bond with his wife and they have been together so long that he really does not know any other way to be. They are proud parents of 5 sweet kids.
So for all those who thought interracial marriages are rare and don't work out easily this list will surely challenge your opinion. These are just a few examples of those who have fought obstacles to be together. Today, we see many such successful pairs in all strata of society. Most of them may not be famous but still have fought and are fighting their own battles, while few are readily accepted. However, one thing that each of these couples proves is, Love does not see color or race, and two people in love can overcome hurdles and live happily forever.