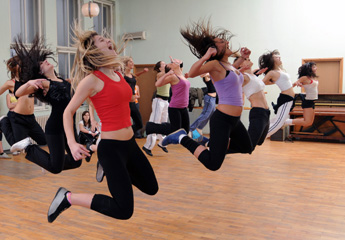 Zumba is a dance form intended towards fitness coined by Colombian choreographer, Alberto "Beto" Perez. It consists of cumbia, salsa, merengue, mambo, flamenco, chachacha, soca, samba, hip-hop, tango etc. It's basically inspired by Latin American dance and performed over the same music. Zumba is something to move fast and have fun at the same time. It's quite easy to learn and one would experience fun to its core. It also includes resistance training mixing with cardio. It can prove to be a good alternative to regular physical exercises and going to gym. Zumba offers several advantages which if compared to conventional exercises have more to offer. Following are some to list out:
It helps you to reduce weight. It's an act in which one can enjoy to the core by dancing thus reducing more calories as compared to one hour exercise in gym. On an average an individual can lose 600-1000 calories in a Zumba class.
One can also tone body by regularly practicing Zumba as all muscles are involved.
Zumba can be practiced by people of any age group, thus offering a good platform to make new friends and network across a wider circle.
Unlike conventional exercises, one can combat boredom by making exercise upbeat. It is so energetic that one would never realize how the time passed.
Zumba offers a perfect tonic to relieve stress. It offers a good release of endomorphins so that one can leave out the worries and relax.
It also acts as a good medium to improve coordination. Joining Zumba classes improves coordination thereby reducing the probability of being susceptible of consequences of lack of coordination as one grows old.
Zumbatonic is a special program designed for children making them more active and healthy, and active right from an early age.
With great mood and high level of activity, Zumba is the best way to boost one's confidence. The changes in mood and appearance make people feel wonderful.Zumba can be practiced by people of any age group. Only thing that you need is good pair of exercise shoes and cross trainers.