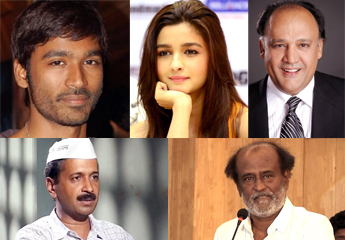 Social networking sites have always been a medium to connect people and bring them close to each other. Lately, these sites have not only attracted people with an intention of connecting with their friends, but also are used as a platform for celebrities for reaching out to their fans. Let's see few celebrities who have actually got famous and or infamous through social media sites.
Dhanush: "Why This Kolaveri Di", a song written and sung by Dhanush, a star from South India, became an instant hit. After its release on 16th November, 2011, it instantly went viral on various social networking site especially YouTube. Within few days it was the most searched song, and people across all ages enjoyed the unique lyrics and music. By 2012, this song had crossed 30 million YouTube views. Not that Dhanush was not a known name to Indian audience, but surely the success of this superhit song, gave him a better reach and added a feather to his cap.
Arvind Kejriwal: From a civil servant to a famous politician, journey of Arvind Kejriwal reflects his efforts, fight for justice and the support he received from citizens. Social media played a vital role in acquainting public with his philosophy, his work and thus creating a place of honour for him in hearts of people. During the election span, Arvind Kejriwal had 3,370,636 followers on twitter, and the number kept increasing. Being active on twitter and Facebook gave him an edge over his competitors to voice his opinion and answer questions raised by commencers.
Alok Nath: An Indian film actor known for most of the roles as 'Babuji' got more popular for jokes on him through Facebook, Twitter, and WhatsApp. His roles were so much consistent in every movie which actually led to jokes and humour on networking sites. Alok Nath gained overnight popularity with hashtags like #AlokNath, #AlokNathjokes, #SanskariBabuji and #Kanyadaan trending all over in every networking site.
Rajnikanth: Is a Tamil actor famous for his contribution to Indian cinema has left no stone unturned to connect with his fans. He created a Twitter account so that he can reach out to his fans, and within few hours of his page creation, he got more than 100K followers and counting with every minute passing by. The social sites also got crowded with jokes which can be attributed to his fantastic prowess in Indian cinema.
Alia Bhatt: The latest interview of Bollywood female actor Alia Bhatt on a reality show, in voked jokes based on her answers during a rapid fire round with Karan Johar. It was after Alok Nath, Alia Bhat was famous virtually. Even though her jokes flooded Twitter and Facebook, pages such as Dumb Alia and Alia Bhatt jokes were also created.