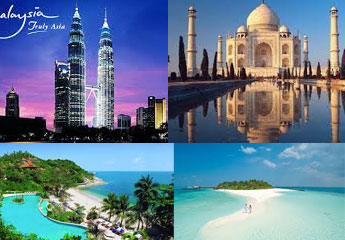 Asian tourist spot are rapidly gaining popularity owing to their picturesque landscapes, pristine beaches and hill stations, varied culture, mouthwatering cuisines and affordability. Here are few options for you.
Malaysia – A popular tourist destination in Asia, Malaysia has been attracting tourist from all over the world. From beautiful beaches to thick rainforest and from historic old towns to Petronas towers Malaysia has lot to offer to visitors. Kuala Lumpur, the multicultural capital; Ipoh, the historic colonial town; Penang, popularly known as 'Pearl of Orient' serving excellent cuisine; Redang, a popular destination for scuba diving; Tioman, once nominated as best island and several other national parks, tea gardens, mountains and mangrove estuaries are major attraction of this country. Malaysia's scenic beauty and uninfluenced islands will surely give you an everlasting memory.
India – Another beautiful tourist attraction in Asia is India. A multicultural country with huge diversity in geography, food, culture and language is a must visit destination. If you are a history lover check out Rajasthan, known for its palaces or Delhi for its architecture; if you love serene nature, visit Kerala – God's Own country. Go north to visit snow-clad mighty Himalayas and west to witness some awesome waterfalls with lush green mountains of the Western Ghats. In beach attraction you can miss Goa for sure. Beaches are in plenty in Goa. Importantly, go to any corner of India, you have something or other of tourist's attraction.
Thailand– Thailand has been long known for its vibrant cities, night life, shopping opportunities and beautiful beaches, spas, and the famous Thai cuisine. Bangkok along with being the capital of Thailand is also famous for Buddhist Temples, gourmet meals, nightlife and other entertainments. Chiang Mai has lots of ancient temples with worth seeing architectures and wide range of spas; several water sports can also be enjoyed here. And of course Thailand is a home of most beautiful islands; Phuket and Koh Samui being most popular amongst them.
Maldives – We cannot surely miss upon Maldives, when talking about Asian destination. Maldives is popular for its breathtaking coral reefs, underwater creatures and mountains. The secluded beaches, crystal clear water, white sand, swaying palm trees and the overwater bungalows are a wonderful sight. Maldives also offers exotic resorts to pamper you. Take a trip to Maldives to relax in the vicinity of beautiful nature.
Japan – Fondly known as the 'Land of the Rising Sun'; Japan is a beautiful tourist spot. Japan showcases several beautifully constructed castles, aesthetic Japanese gardens, famous Buddhist sites and the Disneyland and plentiful art, culture as well as pop sites. Tokyo, Shikoku, Okinawa, Sapporo are few worth visiting cities. A trip to Japan will help you understand their culture and witness its enormous beauty.
Apart from these Hong Kong, Indonesia, Seoul, Nepal, Singapore and Sri Lanka are few equally popular destinations with rich and deep ethnicity.