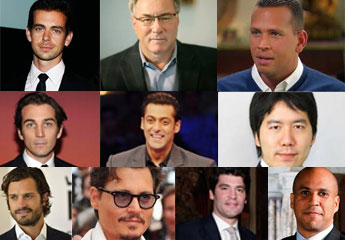 The hunt for eligible bachelors is an ongoing process. Each year we have a list of bachelors who are heartthrob for women. Some of them are very rich, some are politically strong, some others are socially influential, and of course there are quite a few from royal families and popular guys from sport, film and music industry. There is no specific age limit defined for an eligible bachelor, yet several lists focus on the younger ones. However our list comprises of eligible aged bachelors of all time.
Jack Dorsey – It isn't surprising to find San Francisco's famous business tycoon on our list. Jack Dorsey is widely known as a co-founder of Twitter and CEO of Square, a mobile payment company. His estimated net worth is around $1.3 billion. This internet-superstar is 37 year old and based in California. He was born in St. Louis and is a part of Italian descent. Though Jack did have some on and off relation, he was never married to anyone and this heartthrob is surely one of the most eligible bachelors around.
Tor Peterson – Tor Peterson, aged 48 years is lone American amongst Glencore International's troupe of billionaires. He leads the coal and coke operation from the Swiss Company, generating revenue of $233 billion. His own net worth is approximately $2 billion. Tor is a native of California and did his schooling from Switzerland and graduated in political science and French from Duke's University. His personality and charm has not lost charm over the years and he still stand to be the most eligible bachelor.
Alex Rodriguez – Talk about most-sought out dudes and sportsmen cannot be left behind. 39 year old Alex Rodriguez, for sure deserves a special place on our list. Alex is popularly nicknamed as A-Rod and is an American professional baseball player. He was born in Washington heights section of New York to a Dominican family. He started his career in baseball quite early and successfully won his first championship in 2009. He played for a series of leagues like Seattle Mariners, Texas Rangers and New York Yankees. Though, there have been few controversies revolving around his personal and professional life, he still continues to steal the heart of several women.
Jamie Johnson – Jamie Johnson is one of those lucky people who are born with a silver spoon in mouth. He is the great-grandson of Robert Wood Johnson, the co-founder of Johnson & Johnson. Along with being an heir of world's reputed company he is also a famous filmmaker and writer. This 35 year old has a net worth of around $610 million. Jamie loves socializing and has appeared in popular Television series in a cameo role. This handsome guy is definitely one of the most sought bachelors.
Salman Khan – Ask any Indian, about India's most eligible bachelor and Salman Khan would be a unanimous answer. This Bollywood superstar has won hearts with his super cool attitude, awesome looks and great muscles and acting talent. Salman is in his forties and has achieved tremendous success in his career. He is also known for his philanthropic activities. Though Salman has been linked to several co-stars nobody has claimed him yet and inspite of his growing age he can still make girls go weak in the knees.
Yoshikazu Tanaka – Yoshikazu Tanaka tops the list of Japan's most eligible bachelor. He is an entrepreneur and has developed Social Networking Service GREE. He is ranked as "Asia's Youngest Self-Made Billionaire", under the age of 35. Yoshikazu is a highly accomplished businessman with ambitions to grow internationally. His current net worth is $1.6 billion. Though (as once mentioned by him), he is not thinking of marriage or personal commitment currently, owing to his business responsibilities, nonetheless he is definitely worth a though.
Prince Carl Philip – Anybody with the name Prince in the title always deserves a second glance, no matter what. Prince Carl Philip is a hot dude with great looks and enchanting charm. He was born in Sweden to King Carl XVI Gustaf of Sweden and Queen Silvia. He is the Duke of Värmland. Prince Carl Philip is keen on sports and enjoys outdoor life. This 35 year old royal has been linked with quite a few women but never married. He is currently dating Hellqvist and they plan to marry in summer of 2015. Till then, he manages to be on our list of most eligible bachelors.
Johnny Depp – Hollywood's hottest star, musician and producer, Johnny Deep, is single again. He rose to fame in 1980's and continued to remain a major actor, winning several awards. He is regarded as one of the world's biggest movie star. Though, he has had a string of relationships, many of them were not quite successful. He has two kids with Paradis and enjoys his fatherhood to fullest. Depp has been dating actress and model Amber Heard since 2012, but is not married yet.
Alejandro Santo Domingo Davila – Alejandro Santo Domingo Davila is a Colombian American financer. He is a Harvard-educated, dashing young guy and owns the world's largest beer fortune. He is also a proud owner of a private Caribbean island of Baru. He is also known for supporting several non-profit development organizations. In recent years he dated Amanda Hearst and supermodel Julie Henderson. However, he is still not married and hence can be considered as an eligible bachelor.
Cory Booker – Cory Booker is an American politician and is considered as the most prominent Democrats in New Jersey. He began his political career in 1998 and although he lost in beginning, he soon won and gained national reputation. Booker is a strict vegetarian, loves exercising and abstains from alcohol. He has never been married and keeps his personal life private. He once said that he is trying to date more in the hopes of finding someone to settle down with.