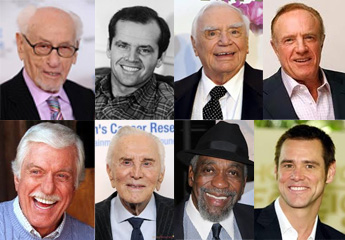 Here is our list of evergreen actors from Hollywood. It could have been a huge one, given our immensely talented Hollywood stars, but we limited ourselves with some of our favorites.
Eli Wallach – Elli Wallach tops our list. To walk with his long career of over six decades and 90 films to his credit, he is also proud recipient of several prestigious awards. For his debut screen performance in Baby Doll, he won BAFTA award for Newcomer and a Golden Globe nomination. Since then he acted in many movies, which turned out to be box-office hits. He worked alongside several big stars like Clark Gable, Clint Eastwood, Marilyn Monroe, Steve McQueen and many others. His famous movies include – "The Magnificent Seven," "The Good, the Bad and the Ugly," "The Godfather Part III", "The Hunter" and "Mystic River'. His last role was in the movie Wall Street 2: Money never sleeps which he played while he was 94 years old. He once rightly mentioned, "I never lost my appetite for acting".
Jack Nicholson – A famous American actor, director, screenwriter and producer is a three time Academy Award winner and a 12-time nominee. He also received Oscars nod every decade since 1960 to 2000. Apart from these he has also won several BAFTA, Golden Globe, National Board Review, Screen Actor Guild and other awards. Nicholson entered Hollywood as a gofer for animation, later he acted in his first drama The Cry Baby Killer in 1958. Few of his famous movies are Five Easy Pieces; On a Clear Day You Can See Forever, The Last Detail, The Who's Tommy, The Passenger. Nicholson successfully did a variety of roles in his career and continues to do. Though there were rumors that he is retiring from acting in September 2013, it was later confirmed that they were false, and he is actively reading scripts for his next project.
Ernest Borgnine – A film and television actor, Ernest Borgnine's had a career that spanned over 60 grand years. Prior to entering film industry he served in United States Navy for 10 years. Later he graduated in acting studies. His first big break came in 1953, in the movie From Here to Eternity. He played the roles of character actor and villains in many movies. His well known movies are The Flight of Phoenix, The Dirty Dozen, All Quiet on the Western Front, The Wild Bunch and Escape from New York. He also acted in several television programs like Caption Video and his Video ranges, Texas Ranger, The Love Boat, Magnum, Highway to Heaven and others. He was last seen as an actor in the movie The Man Who Shook The Hand of Vicente Fernandez.
James Caan – James Caan is an enigmatic actor best known for his roles in Godfather, Thief, Misery, A Bridge Too Far and television series Las Vegas. He played many distinguished roles in films as well as television programs and won acclaim for both. He continued to play different roles like meek romance novelist, gangsters, comedian etc. At the age of 74, Caan continues to act. He is currently playing Terry "The Cannon" Gannon, Sr. in the ABC sitcom Back in the Game.
Dick Van Dyke – A multi-talented American film personality Dick Van Dyke's career spans over 70 years. He is a well-known actor, singer, dancer, comedian and producer. Dyke made his movie debut in Bye Bye Birdie. Later, he acted in several good movies like Divorce American Style, Lt. Robin Crusoe, U.S.N., and Night at Museum, Cold Turkey and others. He acted in many television series as well and achieved fame and success. Till date his last movie is Night at the Museum: Secret of the Tomb (2014) and he was a guest star in Signed, Sealed and Delivered (2014). Dyke has continuously impressed audience through his performance and is a much sought actor at the age of 88 years.
Kirk Douglas – A popular American film and stage actor, Kirk Douglas he has been active in films since 1942 to present day. Few of his popular films include Out of Past, Champion, Seven Days in May, Tough Guys, The Viking and Lust for Life. He is No. 17 on the American Film Institute's list of the greatest male screen legends in American film history and the highest ranking living person on the list. Douglas gained an image of a tough guy after his film Champion. Douglas got nominated for Academy Awards for Best Actors for his work in Champion, The Bad and the Beautiful and Lust for Life. He is also a recipient of several awards including Academy Awards, Golden Globes, Emmy Awards, BAFTA awards among others.
Bill Cobbs – Bill Cobbs is an American actor who has starred in more than 160 television programs and movies. Though he started his career relatively late, his success has been unbeatable. His first professional acting role was in Ride a Black Horse. Later, he appeared in theatre productions, regional theatres and street theatres. His first film was The Taking of Pelham One Two Three in the year 1974. He has several hits under his sleeves and some of them are – The Cotton Club, Suspect, Demolition Man, I Still Know What You Did Last Summer, Night at Museum: Battle of the Smithsonian. Till date his last movie is Night at the Museum: Secret of the Tomb which is a sequel of one of his past movies – Night at the Museum: Battle of the Smithsonian.
Jim Carrey – Jim Carrey can be termed as one of the biggest movie starts of Hollywood. This Canadian American actor has four Golden Globe Award Nominations, and is a winner of two of them. Carrey started his acting career in 1979 but received recognition after performing in the sketch comedy "In Living Color". His major hits include Ace Ventura: Pet Detective, Dumb and Dumber, Ace Ventura: When nature calls, Eternal Sunshine of the Spotless Mind, Wonderstone and many others. Though Carrey achieved his stardom only in 1994 after playing a lead role in Ace Ventura: Pet Detective, it paved path to several good roles for him. Since then, he is continuously achieving success by playing variety of roles and is one of most sought after actor even at the age of 50+. We wish him many more fruitful years.