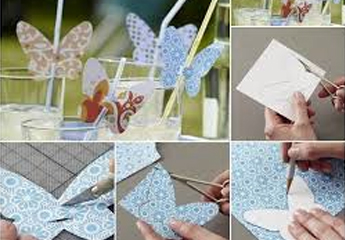 Home is where heart is. Home is a place where we are comfortable, spend our valuable time and enjoy with family. A clean beautiful home makes our moments memorable. A beautiful home does not always mean humongous expense. You can beautify your home according to your choice using various homemade decors. Here are few tips for same-
Various arts made of paper – Romantic paper roses of various colours can be made from simple papers. They can be used as artificial flowers on vase, as wall hanging, around lamps or occasionally on tables.
Beautiful lanterns can be made using drawing papers, colourful glasses and thread. The one made with thread is particularly interesting. Take an air blown ball and apply glue over it. Stick a thick thread over it and spray it with colour. Remove the air after some time and punch a hole to allow a bulb to be inserted. When lit, it looks very pretty and colourful.
Bottle caps are one of the most interesting things that can be used to make artistic items. It can be used to create wall art, or filled with wax to make candles, pasted around mirror to give a beautiful look, can be used for making photo frames and also coasters.
Unwanted clothes can be used to make pillow covers or patched bed sheets. This is bit tedious but very useful and pretty way to decorate house. You can cut small pieces of varied coloured clothes and stitch them together to create a roseate look.
Old newspapers can turn ordinary looking bins, glasses or holders into fancy ones. Stick newspaper uniformly around bins or glasses with the help of glue. Allow it to dry. Then using your artistic sense paint them with pretty colours, you can also stick various paper arts on it. This will turn your regular bin or glass into an awesome decor item.
These are few tips to decorate your home. But imagination has no boundaries. You can try many more such things and deck up your home with minimal cost.