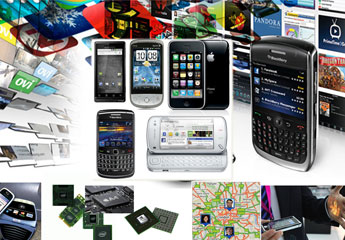 ­Mobile phones have evolved over the period of time. From being a simple device which one could use to make calls or send short messages it became something which has potential to replace every other electronic gadget is quite exciting. Today mobile phones are equipped with features of digital camera, handy cam, Walkman, and many others. Mobile phone history can date back to cabs, police vehicles etc wherein using two way radio technology people made calls to one another to communicate. At any point of time, did our ancestors think of carrying a small device along with them to make and receive calls in addition to features of taking pictures, sending messages etc? Idea would have sounded very weird at those times. In fact, mobile phones have evolved to an extent that today it is a necessity rather than just being a luxurious accessory. Let's gain an insight on the evolution of the mobile phones:
It was 1946, when Swedish police used first mobile phone to make calls using the telephone network and a car battery. The phone didn't last long as it was capable of making only 6 calls until the car battery drain off. D. H. Ring from Bell Labs was the one who ideated the hexagonal cells in 1947. Subsequently another engineer from the same institute introduced the cell towers to transmit and receive signals in three directions instead of only two. 1967 witnessed an improved technology of mobile phones but with a limitation. The caller were able to continue the calls till a defined set range probably due to unexplored technology of handing over the cellular phone calls from one base station to another. Amos Edwards introduced us to today's concept of cell phone. His protocol of concept of modern cell phone was rejected in 1970 until 1982 and finally in 1983 the first generation cell phone was introduced. Phones released then were bulky weighing approximately 2 pounds and costing around $4,000. Moreover it was capable of storing only 30 contact details and only numbers with one hour of battery charge. The phones worked on analogue system which contributed to low quality of calls. Since then till 1983, cell phones gained popularity though they were being restricted to be installed in a car and not being a portable device.
In 1990s, the second generation of cell phones arrived in the market. This concept of phones came up with idea of computer chips which minimized the phone size and long lasting phone batteries. It was this chain of products which made a mark in the market of mobile phones. The technology thrived and kept on adding new features at a much faster rate. United States started using the digital mobile phone networks in 1990 followed by Europe in 1991. 2G mobile phones were much smaller in size as compared to the phones from mid 80s. The phones reduced in size due to advancement in the battery and the chip technologies.
Today's mobile phones or cell phones are the third generation phones that we have been using. Owing to the advancement in science and technology, companies have been releasing new models almost on a daily basis. These phones started coming with 2MBs of maximum data indoors and 384 kilobits of outdoor usage. 1999 witnessed compact mobile phones released in trendy colours. The phones were packed with features such as internal antenna and better graphics and other cool phones compared to previous ones. Following this, in 2000 world's first touchscreen phone was released. The technology used in touchscreen was not that advanced as we know today but it was a promising precursor for today's line of mobile phones. World's first monochromatic display phone with more compact design followed in 2001 and gained immense popularity.
World's first camera phone was born in the year 2002 integrated with colour display. This was made possible due to the continuous research and development in the area of mobile phones. The clam shell phone as well started coming up with new looks and designs. Few of these phones were released with dual screens – one internal and the other one external to notify the user of incoming calls and text messages. In 2004, cell phone technology advanced to a new height wherein Motorola released one of the slimmest phones. Stunning looks, slim shape, dual screen, etc made this class of phones class apart.
The year 2005 witnessed the introduction of Walkman phones by Sony Ericsson. The phone delivered great music without diverting from its main purpose of connecting people. Technology reached to an extent wherein mobile phones were manufactured to act as a style icon. It was made to suit one's personality and also packed with interesting features and lured many customers across the globe. Apple introduced iPhone – world's advanced touchscreen phone. It was the first phone to be released with an operating system which also allowed many applications to seamlessly integrate with the same. As the dependency on laptop for work purpose increased, mobile phones companies released phones with QWERTY keypad, larger screens which made it the apt choice for people on the go.
Undoubtedly mobile phones have evolved to an extent that no one would have ever imagined that it could ever replace laptops. Not only in design, have they evolved in performance and features at the same time. It wouldn't be surprising to see them acting as the single device which would control our every household electronic gadget and appliances.