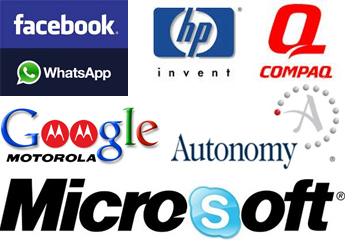 Acquisitions have been the most tactical way of expanding business, by taking over the target firm's operations. It might be either in the form of cash, stocks or both. Let us go through the top 5 IT company acquisitions of all time.
Facebook buys WhatsApp:
The acquisition of WhatsApp in $19 billion by Facebook was the largest ever technological acquisition so far. In addition to cash, the employees of WhatsApp including the founders have also been offered $3 billion worth of stocks. The operations of WhatsApp will remain independent under the umbrella of Facebook. This acquisition was in lines with Facebook's objective of connecting the people. With these acquisitions, both the companies believe to come up with great tools so that they align themselves with each other's goal and objective.
Hewlett- Packard acquires Compaq:
US giant Hewlett- Packard (HP) bought Compaq Computers for $25 billion to compete against I.B.M. with respect to computer sales. Merger of these two companies gave a tough fight to competitors – I.B.M. and Sun Microsystems. Both the companies have been facing difficult times in personal computer space and the decision to acquire Compaq was accepted by both the boards after months of discussion.
Google acquired Motorola Mobility:
On 15th August '11, Google acquired Motorola Mobility, for $40 per share. This acquisition was made to accelerate the development in mobile computing and assuring phones at reasonable prices. Motorola Mobility's portfolio of patents was believed to protect the Android ecosystem which was envisioned the next showstopper in the space of mobile computing. Google being a pioneer in software and Motorola in hardware, this acquisition was proved to be wise decision.
Hewlett- Packard buys Autonomy:
Hewlett- Packard (HP) acquired British enterprise software company Autonomy for $42.11 per share amounting to approximately $10.3 billion deal in August '11. This acquisition news took place amidst the falling shares of HP and company missing the estimated forecast. HP- Autonomy acquisition was a calculated movement, so that HP can pitch into software and services industry rather than focusing only on the hardware, after realising that hardware is more of a commodity driven business. Following acquisitions, there were allegations of 'accounting improprieties' against Autonomy leading to US investigations.
Microsoft acquires Skype:
The acquisition of Skype by Microsoft for $8.5 billion was the largest ever acquisition by Microsoft. The entire deal was in cash before Google and Facebook could even finalize their decision of partnering with Skype. This acquisition gave boost to the enterprise solutions of Microsoft while they competed with Cisco and Google. Also it was a competition to Apple's Facetime and Google's video and voice calling feature.
Of so many acquisitions and mergers, that took place, some proved to be profitable while few did not.