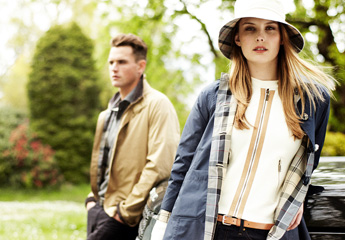 Mohawk is a unique hairstyle in which both the sides of head are completely shaven with a long strip of hair at the centre.
The name Mohawk hairstyle was derived from the Mohawk tribe residing in North America. Mohawks did not shave the head, but plucked each hair leaving either a patch like crown or a strip in centre. Not only Mohawks, but this hairstyle was popular since ancient time amongst various cultures. The hairstyle gained popularity sometime around 1930-40, owing to a Hollywood movie – Drums along the Mohawk.
Mohawk hairstyle became a trend around 1970s and evolved to various new hairstyles like bi-hawk (for 2 strips) and tri-hawk (for 3 strips). Few other hairstyles on similar lines were Fauxhawk, Crohawk (curly and usually 2-3 inch thick), Dreadhawk (combination of deadlocks and Mohawk). The one most popular amongst girls is Chelsea which involves completely shaven head with bangs and fringes in front.
This hairstyle was mainly associated with punk like look, rebels or soldiers. However it re-emerged in early 2000s as an adventurous and trendy haircut. It not only gives a sporty look but is reveals an adventurous personality and ability to stand out. It suits kids as well as adults and look amazing on females too. The traditional Mohawk did shave head on both sides, but today we see a wide variation in this hairstyle. One need not shave head on both sides, but can just trim the hair and create a look that best suits his/her face cut, and of course there is an option to dye it with your favourite colours.
People have always looked upto sportsperson for fashion and style statements. We all are enjoying FIFA World Cup and Mohawk seems to be one of the popular hairstyle among players. So, here is a list of all time famous footballers who have successfully sported a Mohawk look – Mario Balotelli, Neymar, Robert De Niro and David Beckham. And then some of our favourite cricketers wore the Mohawk look during this IPL, to name a few Sunil Narian had a distinct Mohawk hairstyle, others like Virat Kohli, our cool captain – Dhoni and Brendan McCullum, Dale Steyn opted for a sober fauxhawk style.
A lot of people including super models, musicians, rock performers and sportsmen are carrying this unconventional hairstyle with grace. With a little maintenance, a combination of blow-drying, backcombing and twisting, use of agents like glue, gelatin and corn starch and different dyes to colour your lines and stripes you can flaunt this stylish haircut. It will surely give you a smart and confident look, the one you might be waiting for.
Mohawk hairstyle is back again to give a trendy and elegant look. This hairstyle is unique and absolute fun to have. For all the daredevils, this awesome hairstyle is a must try, at least once in lifetime.