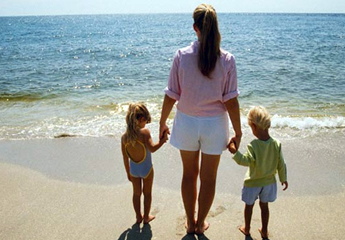 There is a dramatic rise in the number of single mothers in recent years. In US as of 2013, there are around 12 million single parent families out of which 80% are headed by single mothers. Single motherhood could be due to children born out of wedlock, gaining child's custody in case of divorce or due to death of the husband. The number of single ladies adopting kids is also increasing.
Contrary to the belief that single motherhood is always unwanted and tedious, several surveys indicate that single motherhood doesn't make women unhappy and they who have children while single are not less happy than those in relations. Single motherhood brings greater responsibilities and challenges, sometimes financial crisis, but it also makes them confident, and helps in gaining love and attention of their kids and present enormous joys of parenting.
A report published in Umea University, Sweden showed that arrival of child increases happiness of single mother, it gives them power to make decisions and being able to take care of child singlehandedly give single moms confidence to break away from unhappy marriages and cautioned them before starting new one. Sometimes having a child as a widower or divorce helps overcome the sorrow and start life with new enthusiasm and purpose. Some famous examples of single parenting are – President Obama, who was raised by his single mom, Diane Keaton- famous actress, producer and scriptwriter was never married but decided to become single mother at the age of 50 and adopted 2 kids, Sushmita Sen- Miss Universe and Indian actress successfully set an example by adopting 2 daughters, Katie Couric who lost her husband, raised her young daughters alone and amazingly they all are flourishing in their respective careers now.
However single motherhood has its downside. A single mom has to dedicate more time to kids, thus she may not have time for hobbies, education or other activities. Financial crisis often raise their heads when the needs grow. Especially, in poor household where the source of income is already meager, reduction in earning member leads to problems. Single mothers also face hardship in terms of childcare, health issues, and emotional breakdown in absence of a partner and guilt feeling due to inability to meet expectations of children.
Motherhood is bliss and it should not be lost due to single parenting responsibilities. Here are few ways to enjoy this happiness,
Try to find a work schedule that suits your family needs. Opt for work from home or freelancing gives you good time with your kids.
Enjoy kid-free time. Plan a date; enjoy a trip with friends or a visit to parlor by arranging a babysitter. And importantly don't feel guilty about it, you too need a break.
Don't compete or compare with other moms and yourself. Believe in what you do and do it with motherly touch.
Learn multi tasking.
Don't be shy to get help from grandparents or friends when required.
And make sure you congratulate yourself. You are doing a great job and you deserve a pat on back.