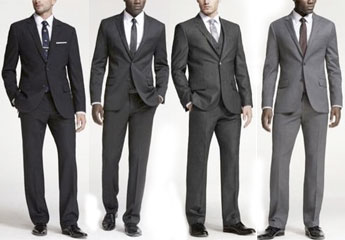 The way you dress, groom and carry self plays a significant role in creating an impression especially during corporate meetings. When it comes to business meetings you need to know about the culture of the company, how your counterparts dress up, the occasion – whether it's a client meeting or an          in-house one etc. Following are few tips that will help you dress appropriately for the occasion.
A suit in shades of black, grey or dark blue or any such solid color with minimal pattern and texture is considered as a business formal. The shirt should be of a lighter color if the suit is on dark side. The sleeves of the shirt and blazer should reach the wrist. Make sure that the collar is nicely pressed and without any stains.
Ties of silk or similar material with a same color print and which provides contrast to the shirt and suit will look good. Avoid clip-on and tie your necktie properly.
Socks should match the pants or shoes and reach the height of calf. Shoes should be formal and neatly polished. Leather shoes look elegant.
Belt should complement the material and style of shoe.
Haircut should be short and face clean shaven. Avoid hair accessories.
At times for an internal discussion it might be ok to dress up in a business casual. Though business casuals are hard to define, a grey or khaki pant with a nice belt paired with a matching shirt looks fine. A sport coat, polo shirt or a sport shirt is also fine. However make sure your clothes are clean and wrinkle free. Causal or leather shoes are a good choice, but avoid sneakers.
Men should avoid wearing accessories, a ring and a formal style watch is good enough. Make sure your tattoos, piercing are not visible.
Building a wardrobe for business meeting is not an easy task. But by keeping in mind few essential tips you can surely create one that suits your needs. Remember, even before you talk your clothes will speak about you, so pay an extra attention to what you wear and how well you carry it.