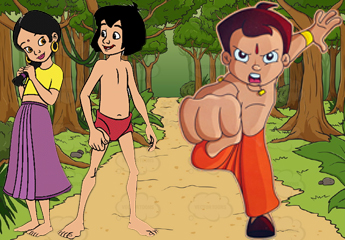 Indian cartoon and animation industry is slowly gaining popularity. Various comic books have been very popular amongst kids since ages, but our animation industry banked more on the cartoons characters from abroad. However, in recent years we have seen a lot of Indian animated cartoons acquiring a significant share in this market. Following are few all time favourite cartoon character
Chacha Chaudhary and Sabu – They represented a rare combination of brain and strength. They are famous Indian comic book character, created by cartoonist Pran. The Character Chacha Chaudhary is a middle aged, extremely intelligent man who stays along with his wife Bini, a faithful dog Rocket and giant from Jupiter – Sabu. Most of his stories revolved around the witty ideas of Chacha Chaudhary and enormous strength of Sabu in fighting with enemies or teaching someone a good lesson. It was one of the favourite comic books of its time, which was later adapted in a Television serial as well.
Chota Bheem – Ask a kid these days, who is his hero and don't be surprised to hear majority saying Chota Bheem. Chota Bheem is a popular series broadcasted on Pogo channel these days which has gained immense popularity amongst kids. The story is about the protagonist Bheem who resided in a town named Dholakpur about 2000 yrs ago. He is a brave strong 9 yr old who along with his friends' Chutki, Raju and Jaggu Bandar saves the city from various evil forces. He has few enemies like Kalia, Kichak and others who try to put Bheem down but never succeed. He has a special liking for ladoos. The success of Chota Bheem has not increased the TRP for Pogo, but also resulted in number of Chota Bheem products in market, targeted for Bheem lovers.
Mowgli – "Jungle jungle baat chali hai, pata chala hai…arey chaddi pehn ke phool khila hai, phool khila hai", a title track which we all remember.  It was probably one of the most loved India cartoons during 90's. During the time when Mickey Mouse and Tom and Jerry grabbed attention from kids, this was the first Indian cartoon which gained popularity. Mowgli is a fictional character created by Rudyard Kipling in The Jungle Book stories. The cartoon series revolved around Mowgli and his friend Bagheera, Baloo, Kaa, Raksha and their adventures in jungle and their enmity with Sher khan – Tiger.
Suppandi – Suppandi is an amusing character who appeared in the Tinkle comics in 1983, and still continues to remain the most famous one. The story was converted to comic format with efforts of Ram Waeekar. Suppandi is shown to be an honest but somewhat stupid servant. He serves his masters faithfully but his stupidity and virtue cost him his jobs. His stories are quite funny and keep you feeling sorry for Suppandi at times.
Sally Bollywood – Sally Bollywood is regarded as one of the best cartoon for toddlers. It is actually a French- Australian animated series which has been translated and sold in various countries, including India. The series revolves around a school girl Sally, who aspires to become a private detective, hence starts her agency – Sally Bollywood Investigations in the basement of her home. Along with her friends Doowee she tries to solve cases using latest technologies. Sally also likes to sing and dance in Bollywood style.
Roll No 21 – Roll No 21, is an award winning series broadcasted on Cartoon Network India. It is a modern take on Lord Krishna and his evil uncle Kansa. In this series, Kris is a boy from orphanage and Kaushik is the principal of Mathura Anant Ashram. Principal Kaushik is continuously planning to take over Mathura and the entire world along with his friend Doctor J. Kris, on the other hand Kris is trying to prevent this from happening with the help of his friends Radha, Sudama and Madhu. Each episode of Roll No 21 is enjoyable owing to witty tactics of Kris and appealing animation.