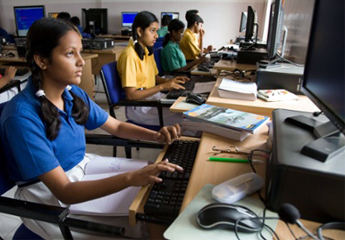 'Internet' has become a necessity, in our day to day life. In the last few years, internet has helped to cross geographical barriers, reach out to every nook and corner of society, and to educate people and make sure appropriate staff reached out to the respective audience. We all are very much familiar with e- shopping as well as e-courses and e-admission.
To reach out to maximum public in a short span of time, universities have been offering e-admissions so that every candidate gets what they deserve. Not only e-admissions, the number of e-courses have been increasing rapidly.
With the advent of open access, many universities have started offering online courses free of cost with also an option to earn a degree with a nominal payment. Not only US and Europe that has come up with online courses, many Indian universities and institutes have started offering online courses. In fact a survey carried out in 2012 by Google India revealed that India ranks second when it comes to searches pertaining education and career search. India has been witnessing a steady growth in online education. India's rapidly expanding economy demands more skilled manpower which in turn makes one strive for better education irrespective of the geographical hurdles. Not only top notch institutes like IITs and B-schools but also the private institutes like Sikkim Manipal and NIIT have started offering online courses which one can take either sitting at home or while strolling in park.
Most of these online courses are either web only courses or can be a combination of videos, lectures and live webinars. These days, everyone is talking about cloud computing and the concept of cloud computing has enhanced online education in India. One of the premier institutes, NIIT has started offering cloud based education program which would not bind any student taking the course in classrooms. Instead it gives students flexibility to attend their respective lectures at their leisure and gives them a chance to complete the course even while pursuing their profession.
At the same time, not for profit institute such as Khan Academy has come up with free online courses for anyone from anywhere. The courses at Khan Academy are not only restricted to college students but are also open to school students and teachers. The courses range from basic mathematics to managerial skills. Online education options are so enormous that venture capitalists have started investing in this domain. Also in recent years, companies in the domain of e-learning have started emerging as big market players. These companies are basically known for developing content based solutions for students and delivering the same through World Wide Web. With the emerging trends in internet and cloud computing, the days are not far where student can learn what they want and also save the same on cloud without even downloading it to personal drive.
Internet has surely played a major role in making education available to a larger group of students with lesser fees. E-learning and e-admission hold a bright future.