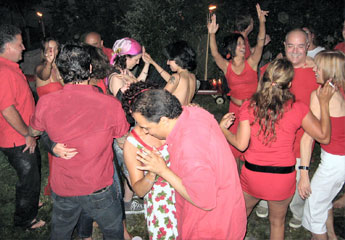 Parties are great way to have fun and frolic and theme parties make it even better. Whether it's a birthday party for kids or just an adult's get together, a bridal shower or a tea party, adding a theme to it make it all the more enjoyable.
These are few guidelines that will help you plan a better party
Decide on the date of party well in advance. Long weekends or days closer to holidays should be avoided as most people may not be around. Also, you have to check for the weather conditions in case you are planning an outdoor party.
Select your venue carefully. If you stay in a laid back neighborhood with enough space you can enjoy at your home without disturbing the neighbors. But if you do not have this option think of a restaurant, banquet hall or some other place and confirm on the closing hours.
Send your invitations well in advance and have a list of confirmed guest. You can design your invitation to match your theme. A bottle of sand with small shells for a beach theme or a cutely designed card for a birthday party can be used.
Pay attention to the décor. Décor holds an important position in such parties as it gives the feel of the theme. For example, if you are planning a princess parties for your daughter's birthday, deck up the room to give a royal feel. Pink and golden artifacts, horses and carriages die cuts, glass sandals, princess dress and a yummy cake are few things that you can think of.
Well, another important thing is food. It is a wonderful idea to have your food as per your theme. For a Halloween theme party, use marshmallows pops decorated to look like skull, mummy and ghost. Use cookies, cheese or olives/cherries to make delicacies look like monsters or skulls. Fold your straws and papers to look witchy and add red icing to your drinks.
Next is sound track and lighting. Music and ambience is a key to good party. Plan your music to match the theme and get a compiled playlist well in advance. And of course select the kind of lighting that blends with your theme.
Planning a theme party is a difficult task and so is attending one. Keep few things in mind while arranging – Most people aren't very creative, they do not want to take too much trouble or spend too much to dress as per the theme; so it is always a better idea to provide few tips to your invitees.
Few ideas for theme party are – Casino Royale, Cross dressing, Alice in wonderland, 60s, 70s, 80s, Country side, Hollywood, tribal, beach side, Mexican fiesta and so on. Let your creativity run wild and plan a party that will rock, the fruits of your efforts will be enjoyed by all.