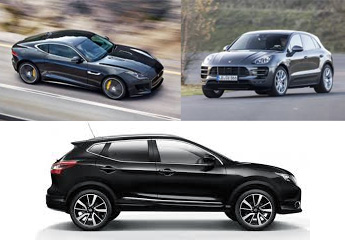 Automobile industry has experienced good number of launches in the year 2014 and there are many more in pipeline for the car lovers. Let's review few high throttle cars launched in 2014.
Jaguar F-Type Coupe: If you are looking for a car which can deliver performance along with practicality then Jaguar F-Type Coupe is for you. This car as beautifully amalgamated the looks, styling along with its performance. It comes in three versions – F-Type V6 with 335bhp, F- Type S with 375bhp, and F- Type V8 R with 543bhp and torque of 680Nm. The USP of this car is its engine with tractable power and exhilarating soundtrack. Another feature of the car which is worth experiencing is the gear box. While the automatic mode delivers a silky smooth driving performance, the semi-automatic delivers an outstanding performance. At the same time you may experience some discomfort, if you are taller than 6 feet. Also the economy takes back seat as the running costs is high. Nevertheless it is unique car in this segment with few minor compromises that you can opt for.
Nissan Qashqai: Packaged with new technology the latest car from Nissan has more to deliver as compared to the rivals in SUV segment. It delivers great power which is attributed by one of the four engines – 1.2 and 1.6-litre turbo petrol, plus 1.5 and 1.6-litre diesels. Car comes with a choice of manual or Xtronic automatic gearboxes with well-chosen ratios. This along with prompt throttle response contributes to its lively performance on road. Although the price is on par with the competitors, the overall packaging of the features makes it worth buying in its segment.
Porsche Macan: 'The only sports car in the SUV segment' as stated by Porsche is the punch line used to promote this car. It comes in three options – Macan S, Macan S Diesel and Macan Turbo. The petrol version of model S comes with 335bhp 3.0 – litre twin-turbo V6 engine, while the diesel version comes with 254bhp 3.0-litre V6. At the same time the turbo version is fitted with 394bhp 3.6-litre twin turbo V6. Being equipped with seven speeds, PDK dual- clutch automatic gearbox it delivers an outstanding acceleration and traction. Despite being a sports car, it is well built in a manner to accommodate maximum luggage and passengers comfortably. With its agility and reliability, it doesn't seem to be a bad option to consider for sports car buyers.
We would like you to add your favourite full throttle cars of 2014. Please add your choices in comments.