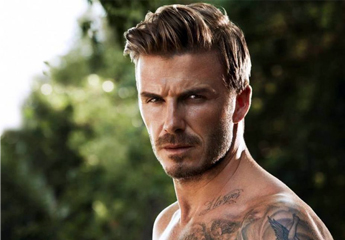 David Beckham is an undisputed midfield footballer and a global fashion trendsetter. Beckham had been experimenting with his hairstyle continuously and his huge fan base keeps following him inch by an inch. From thick shaggy colored hair style to Mohawk look, he sported most of his hairstyles with grace.
David Beckham's buzz cut became an instant hit amongst style–conscious men at a time when shaved head was thought to be cold and harsh. However, Beckham looked highly cool and masculine in his new style. His middle parted hairstyle with layers hanging on sides also gained popularity in short while, with number of his fans opting for long hair. Spike is one of hair cut flaunted by Beckham which became an instant hit. It is still one of the most sought out hair cut amongst adults as well kids.
A twin pony or a hair band worn to keep the layered hair from falling on face also became a style statement. Whether it was a straight short hairstyle with slight spikes to give a somber look or long ruffled hair for a rather funky look, Beckman managed to look impressive in each one. His cut and style became popular not only amongst his fans but also worldwide and gave confidence to guys who wanted to experiment with their looks. From highlighting to coloring Beckham tried diversifying hairstyles and carried them with no hesitation.
David's most widely talked about haircut probably were his Mohawk and Faux hawk cuts. A traditional hairstyle which was slowly making a comeback became a burning style statement as soon as David opted for it. Many sportsmen including few in FIFA 2014 World cup wore this look.
David Beckham's hairstyles featured in lots of sports and fashion magazine. His unique and refined hair cut gave a boost to his overall personality. He also proved that if one can carry oneself confidently no style can be under or overstated. Most of his haircut received a huge influx of followers and he was an inspiration to those wishing to try something different and new.