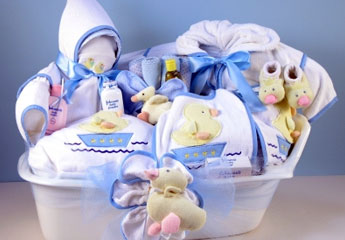 Baby shower is a time for fun and frolic. It is the right time to gift the to-be-parent something useful, practical or something funny to ease their apprehensions and share a laugh.
Conventionally baby shower gifts comprise of books on how to take care of new born, dresses for the baby, baby shower cards, baby booties, crib or a mummy's bag. Apart from this some personalized or handmade gifts are good idea. A personalized gift can be a perfect photo of the to-be-mom and dad, a message card with wishes from all friends, a gift basket, or a platter of favourite food.
Now-a-days markets are flooded with numerous innovative products that can be gifted for baby shower. A baby bean bag, a vest with an attachment for pacifier or bottle, roll-able travel carrier, a dancing shoe that can be worn by baby and parents together, a self-heating travel bottle or a sibling ride-along board, a pacifier with a teddy attached, colorful baby socks or sport jockey with baby's name.
If you are planning to add a little humor to your gift, here are few ideas. A little man mustache with a pacifier attached, a baby-safe pacifier with teeth which makes the little one look like he/she has a full set of teeth, a maternity coffee mug that resembles a pregnant belly with handle supporting the lower back, a dirty diaper survival kit that includes- gloves, aprons and nose protection, a humorous t-shirt for the baby or mom, baby milestone stickers with name and months, or an infant care troubleshooting flowchart or piggy shaped boots can be good ones to chose from.
Like mom's even dads deserve something special on this occasion and you can of course consider gifting the to-be-dad something unique. A new parent mug which would inspire them to stay awake for nights, a kid dictionary of hilarious words to describe the indescribable, a new dad survival guide, daddy's diaper tool box and T-shirts with beautiful wordings.
Several ideas will spring up if you give wheels to your thought. So, take these tips and plan a wonderful baby shower gift for your loved ones.