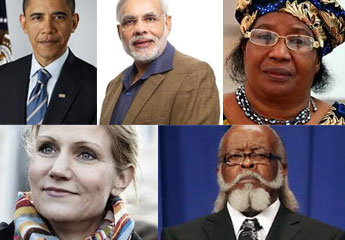 Gone are the days when politicians paid no heed to fashion. Today, political figures around the world are stepping into the designer shoe as and when they get an opportunity. Style and fashion is now used as a tool to create a unique image and communicate with mass about their beliefs.
President Barack Obama has been grabbing attention for his stylish signature suits. His suits are custom made by Hartmarx, a 121 year old Chicago based company and the largest suit maker in USA. The Obama suit is always of a specific material, style, two-buttoned, single breasted jacket and single pleated pants made of 97% worsted wool and 3% cashmere blend. His dark suits, crisp white shirts, pale blue or red ties make him look suitable for all occasions. Whether he adorns a casual look or a formal one he never fails to impress people with his looks. We all may not agree with his politics but we cannot surely deny that he is a man with style.
The current Prime Minister of India, Narendra Modi is considered to be one of the most influential politicians in Asian continent. Everything he does is welcomed by the commoners and so is his dressing. His crisp, half sleeved silk, khadi or linen kurtas, churidar pyjamas along with finely tailored Nehru jackets with eye-catching colors make him one of the most fashionable politicians. His rustic yet formal style makes him appear confident. Designers as well as youngsters feel he looks chic and elegant in his dress code.
Joyce Banda is the fourth and first female president of Malawi. Ranked as the most powerful women in Africa, this lady carries herself with a style. She always dresses in traditional African style with variety of material and colors. Her collection comprises of floral, patterned, brightly colored dresses with an ornate hat. Joyce who is the face of Africa to world represents her roots with the simple yet fashionable attire.
Helle Thorning-Schmdit, the first female prime minister of Denmark was elected to office in 2011. She is known for her love towards designer wears and fondly nicknamed as 'Gucci Helle'. As fashion lover she enjoys wearing smart designer stuff right from her clothes to her shoes. Though she has faced some criticism for this, nevertheless she continues to look stunning and graceful in her outfits.
Jimmy McMillan, Governor of New York can steal the show with his appearance. His unique hairstyle with equally different moustache does distract a bit, but surely makes him look different. He prefers wearing a suit with lose tie and gloves. His style is gaining a huge popularity these days.