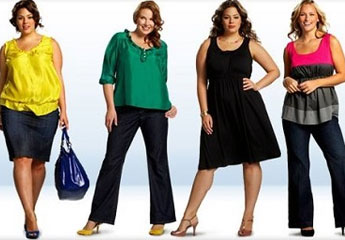 The trick to look good is not blindly following trends or choosing an expensive dress, it is to know your body type and dress accordingly. Your figure, complexion and age decide the kind of outfit that look better on you. Calculating your body type and understanding your looks is essential.
Pear shaped (lower body wider than upper body) – Your biggest asset is shoulder, torso and flat stomach and you need to emphasize on your waist and arms. Wear dark colored bottoms, A-line skirt, with light colored tops. Huge prints and colorful dresses are meant for you. Do not wear clothes that draw attention to your hips. Sleeveless or strapless tops and jackets that hit above waist are a good choice.
Wedge shaped (inverted triangle) – Your legs are your asset and you need to soften your upper body. So wear bright colors on bottom and wide legged pants or full length skirts. Stay away from strapless or boat neckline tops as they make your upper body look wider.
Rectangle type (straight) – You don't really have to worry about minimizing any of the body features. Wear long jackets to create a slender look, tops with collars and ruffles, scoop necks and clothes that would make you appearances curvy.
Apple shape body (upper body broader) – Your legs are your asset and you have to pay special attention to elongate your torso. Monochromatic and small patterns clothes look good on you. A V-neck or          U-neck top or dress would make your torso look longer. Wear a belt or try covering your tummy with nice tops. Short skirts and boot cut jeans suit you well. Do not wear tight fitting pants or legging unless you are wearing a long tunic or jacket that covers your hips.
Hourglass body type (shoulders and hips are equal in proportion set off by tiny waist) – No doubt that curves are your biggest asset, so flaunt them. Do not wear baggy clothes but opt for well-fitted ones. A belt, wrap up dress or high-waist skirts should be your choice. Tops with v-neck or scoop neck, small ruffles and sweat heart neckline are a good option. Do not go for heavy fabrics and too skinny outfits.
Complexion also plays crucial role in determining the color that should be selected. If you have dark complexion opt for brighter colors and deeper tones. Purple, pink spectrums, soft or bright yellows and red or orange look great on you. Grey, blue or silver may not be suitable for you. If your skin tone is medium stick to brighter colors like deep navy blue, deep pink, green and red color families and deep purple. However stay away from brown, beige, caramel and orange. Those with fair skin tone can chose lighter red and orange shades, ivory, navy or even grey. But avoid, wearing bright colors and neon.
The above points are mere guidelines; you need not abide by them always. You can wear anything you like, if you can carry something confidently.