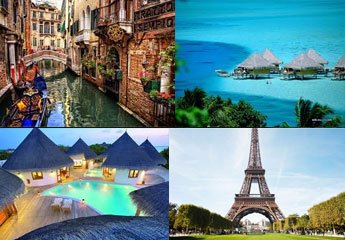 Few places around the world are said to have love in air. Such romantic gateways need not have pampering hotels, candle light restaurants or other luxurious amenities, but the feel you get here is both relaxing and enchanting. Let's explore few such romantic destinations:
Paris – Paris is the city of love and light. Whether you're just strolling along the lanes or enjoying a candlelit meal, viewing Eiffel tower or sipping exotic wines, Paris has everything to offer for lovers. The gorgeous cityscape, cultural diversity, luxurious hotels, beautiful parks and the grand building have been attracting visitors from all over the world.
Maldives – Beaches have always been associated with romance. Walking hand-in-hand along a beach during sunset is something each one of us should experience. And when we think of beaches, we surely consider Maldives. The secluded beaches with crystal clear water, white sand and overwater bungalows offer an awesome experience. The tiny corals and reefs teeming with life are a wonderful sight.
Venice – This city of water has been a popular romantic destination since ages. Venice welcomes you warmly with hidden bridges, cobblestoned alleyways, beautiful canals, fine Italian restaurants and marvelous churches. Grand palaces, ancient architectures, boutiques, art galleries and the canal side cafes will surely take you by surprise. Take a gondola ride, walk around the narrow bridges and fall in love all over again.
Hawaii – When speaking of romantic destination you can't leave behind Hawaii. The Hawaiian beaches are wonderful with breathtaking ocean views, turquoise water, lush green surroundings and abundance wild life. Hawaii is one of the most sought out honeymoon destination especially for Americans. This is place where couples can enjoy romance, adventure, admire crashing waterfalls, check our secret beaches and get comfortable at luxurious accommodations.
Switzerland – The picturesque surroundings, scenic mountains, beautiful lakes and Swizz art and culture have placed Switzerland in one of the top romantic destination. Along with the exquisite natural scenery Switzerland also offers best hotels, skiing facilities, drives along the shores and varied cuisines. It is a place where you can recapture each other hearts while losing yourself in the infinite beauty of the place.