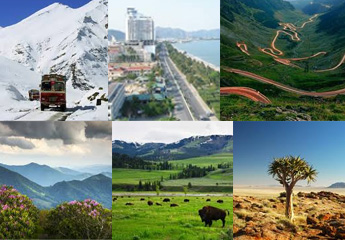 Road trips are a classic way to explore places. You can experience beautiful nature, charming water fronts, awesome food at road-side restaurants and great interaction with localities in such kind of trips. It gives you an opportunity to witness the best things of a particular place, halt at your leisure and fuels the adventurous person in you. Following is a list of few such worth experiencing road trips across the world.
Asia-The Himalayan ranges, great deserts, varied culture and mouth watering cuisine, Asia is an amalgam of too many good things. Each country in Asia has something different to offer and there are several thousands of options available for road trips. We have enlisted 2 best amongst them:
Leh-Manali Highway, India – The Himalayan ranges of India are a dream destination of every adventure lover. The scenic Leh-Manali highway offers a beautiful view of rivers, snow-clad mountains and green lush meadows. The route from Solang Valley to Rotang Pass is worth seeing alongwith its beauty; it also has popular Buddhist pilgrimages with plenty of statues and sacred sites. A road-trip here is safe enough just make sure you plan in advance, since this road is open only for five months in summer.
The Nha Trang-Quy Nhon, Vietnam – Another such breathtaking destination for nature lovers is Nha Trang Quy Nhon. It is surrounded by beautiful mountains on three sides and a bay on the fourth. This beautiful road stretches upto 134 miles along the coast. Today, this route has become one of the popular destinations in Vietnam. A weeklong Nha Tran Sea Festival offers a more glamorous view of this highway and is held in June during odd-numbered years.
Europe – Other popular destinations for road trips are the scenic countries of European continent. Picturesque locations, a glimpse of medieval world, castles and several mesmerizing spots, Europe has something for everyone. Here are 2 such examples:
Transfagarasan, Romania – The spectacular road of Transfagarasan Mountain or national road 7C is popular all around the world for its infinite beauty. It is the second-highest paved road in Romania after Transalpina. This 90 km long drive is located in Romania and runs through the Fagarus Mountains, Transsylvanian Alps and Dracula's Castle. The Transfagarasan rises to around 2134 meters and has sharp turns, several tunnels, hairpin loops and much more to experience. This route provides access to Balea Lake and Balea Waterfalls. A vast number of cyclist, drivers and motorcyclist enjoy this topography every year.
America – America has several wonderful drives full of spectacular landscapes, roller-coaster dips and bends, stretches of deserts, panoramic views and scenic beauty along the coast. Whether you plan a romantic drive, an adventurous road trip or a relaxing journey, America will never leave you disappointed. Check out these popular destinations.
Appalachian Mountain trip – A trip along Appalachian Mountains will take you through scenic Blue Ridge parkway which passes through Virginia, North Carolina and Tennessee. It's a 469 miles long drive and connects two famous national parks, namely Great Smoky Mountains National Park and Shenandoah National Park. Enroute you can witness an array of flora, walk around historic places and hiking along Humpback Rocks and James River.
Lamar Valley, Yellowstone National Park, Wyoming – You would be able to enjoy river, creeks, mountains and forests if you take this Lamar Valley route. Route 212 runs down the valley and pasts around numerous viewpoint assuring a sure view of herd of Bison. And of course you can also witness several other animals like fox, bear, elk etc. Though it is one of the less visited places, it is worth experiencing and has lots of panoramic view throughout.
Africa – Africa is a best destination if you are ready buckle up for seatbelt and enjoy the voyage. African villages are picturesque, easy to navigate and several freeways will easily take you away from crowded cities. Africa has lot to offer to its visitors and that includes deserts, mountains, pleasant African villages and wildlife filled jungles. Here are two such totally distinct destinations:
Bloemfontein to Durban – This route takes you through scenic farmlands and foothills. Starting on freeway from Bloemfontein and extending upto mountain kingdom of Lesotho, this 416 mile drive is full of endless sunflower fields, blue sky and mountains. Sandstone buildings, snow-covered peaks in winter and amber foliage in autumn and boutiques and restaurants alongside present a captivating sight. If you have time in hand you can further explore Free State's Eastern Highlands, Africa's greatest ranges Drakensberg and Royal Natal National Park.
Karoo Desert – Desert trips are popular in Africa. Karoo Desert – Africa's living Desert is one such well known road trip. This vast semi-desert occupies around 100,000 square miles of South Africa. Driving through this arid desert is challenging, especially when the temperature is high. However, if you plan a trip in September-November you can enjoy sunny days and cold nights. This route helps you discover African towns, vibrant vineyards, stretches of deserts, dusty roads and windmills.
These are just a few locations of thousand available around you to explore. So plan your trip, pack your bag and embark on the memorable road trip. Sometimes a path to destination can be more beautiful than the destination itself and a road trip is a perfect example of this.