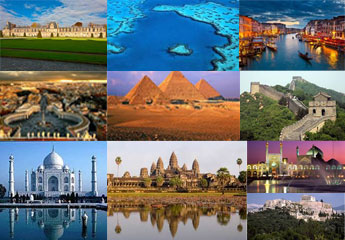 A site is referred to as World Heritage Site when it is listed by the UNESCO organization as a special, physical or of cultural significance. UNESCO today has more than 1000 sites in its list and the number keeps increasing every year. The following list is of 10 such beautiful sites:
Palace and Park of Fontainebleau, France – The Palace of Fontainebleau is located 55 km from the centre of Paris and is one of the largest French royal palaces with over 1500 rooms. It is surrounded by 130 acres of parklands and gardens. This grand palace was constructed around 12th century but remodeled by Napoleon during his stay here from 1807-1809. The architecture of this palace is very beautiful and this chateau gives a glimpse of French history, culture and art with minute details. The gardens surrounding the palace are equally interesting and beautiful. This palace houses worth seeing galleries, three chapels, four wonderful museums, and fascinating collection of artifacts.
The Great Barrier Reef, Australia – A remarkably beautiful collection of world's largest collection of coral reef exists at The Great Barrier Reef in Australia. Situated on the north-east coast of Australia it contains, 400 types of corals, 1500 different species of fish, 30 species of whales and dolphins and 5000 types of molluscs. Owing to this diversity it holds great scientific interest as well. However the recent years have seen endangerment of these flora and faunas. Several species of dugongs, large green turtles are on the verge of extinction. The Australian and Queensland government has joined hands to protect this priceless and vast ecosystem and to ensure that it continues to remain the best managed and protected UNESCO sites.
Vatican City – Vatican City is the only city in the world, where the entire land is considered as a World Heritage site. It is one of the most sacred places in Christendom. Vatican City is a walled enclave within Rome and around 44 hectares in area. Within the boundaries lies the St. Peter's Basilica, with its double colonnade and circular piazza in front, and is bordered by beautiful palaces and garden. The gardens are decorated with fountains and sculptures and contribute to around 23 hectares. The Vatican museum is famous for its collections of artistic and unique masterpieces.
Venice and Its Lagoon, Italy – Venice and Its Lagoon are famous throughout the world for its enormous beauty. The magnificent bridges, extraordinary architecture, Gondola rides and ancient cafes together offer an amazing sight. The Lagoons of Venice are one of most ancient complex setups of relationships between human activities and natural dynamics. Its history, cultural tradition, and the wonderful landscape are too good to be described in words.
Pyramids of Giza, Egypt – The Pyramids of Giza are situated on the western bank of Nile, about 20 kms from Cairo. The ruins of Memphis and pyramids of Giza were considered as one of the seven wonders of world during ancient times. These pyramids are designated as Khufu, Khafre and Menkaure corresponding to the kings who built them. Khufu is the oldest and the largest pyramid and is a single colossal structure. This pyramid took 20 yrs to construct and once it was completed a gold cap was placed over the peak and limestone was used to cover it. These pyramids are unique and represent architecture marvels of the bygone era.
The Great Wall of China, China – A Heritage site since 1987, Great Wall of China is the only manmade structure visible from space even with naked eye. This China's iconic construction was built in 14th century to protect the northern borders of Chinese Empire and it stretches for 8,850 kilometers from Korean border west into the Gobi deserts. Out of this 6,259 is actual wall, while 223k kilometers is trenches, and the rest is natural barriers like rivers, steep slopes or hills. The Great Wall of China showcases complicated defense system of property, wall, fortresses, passes and beacon towers. This marvelous architectural structure is indeed recognized as the integral accomplishment in human history.
Taj Mahal, Agra, India – Taj Mahal, a beautiful white marble monument is located in Agra and is a World Heritage site since 1983. It was constructed by Mughal Emperor Shah Jahan in memory of his wife, Mumtaz Mahal. The whole structure is more than 35 meters in height, built in white and yellow marble and is flanked by two mosques. The Taj Mahal complex consists of Main gate, Gardens, Mosque, Rest house and the main Mausoleum. The moonlight garden, riverfront terrace, Charbagh garden and few others beautiful structures with contemporary designs are wonderful.
Angkor Wat, Cambodia – This famous temple was enlisted in world Heritage site in 1992. It is one of the most important archeological sites of South-East Asia. Angkor Wat was initially a Hindu temple and later declared as a Buddhist temple complex and is the largest religious complex in world. It is an example of Khmer architecture and was constructed around 12th century over 30 yrs by King Suryavaram II. The complexity and beauty of this temple has been attracting tourist for ages. The beautifully sculptured walls depicting epics, carved roofs are worth seeing.
Meidan Emam, Esfahan, Iran – Meidan Emamwas built by Shah Abbas I at the beginning of 17th century. The square of Meidan Emam is largest of its kind in world and is surrounded by artistically built structures from Safavid era. To the south lies the Shah Mosque and Ali Qapu Palace is on the west side. Sheikh Lotf Allah Mosque is located on the east side of this square and the northern side opens into the Isfahan Grand Bazaar. Along with the structures are fountains and gardens which form a beautiful maze.
Acropolis, Greece – Acropolis of Athens is an ancient citadel containing remains of several ancient building. It is a unique monument illustrating the civilization, myth and religion that flourished in Greece over a period of 1000 yrs. The classical Greek art, Temple of Athena Nike, monumental gateway and Temple of Athena Parthenos represent a mesmerizing sight. A museum located here has a good collection of ancient artifacts.