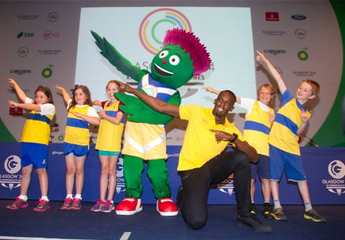 Glasgow is staging the world's largest and prestigious game event – 20th Commonwealth Games for 2014. Thousands of athletes are participating in more than 250 events. Ever since its announcement in 2007, Glasgow has strived to use this opportunity not only to showcase its talent to world audience but also for betterment of environment.
Taking its inspiration from London 2012 Olympic Games, which was regarded as the most sustainable event, Glasgow drew an environmental friendly plan. Glasgow efforts for greener games were acknowledged by award of ISO 20121, the international standard for sustainable event management. This certification mandates the organizers to improve sustainability throughout the event. By going green the Scots have assured to conduct this event successfully without damaging the environment.
Following are few sustainability facts about Glasgow 2014
Recycled food waste was used to construct the Commonwealth games venues. Domestic waste was collected from all households in Scotland and recycled at GP Plantscape's In-Vessel composting facility; this was then used to grow turf at Athletes' Village and other sporting areas.
The organizing committee and Zero Waste Scotland plan is diverting 80% of waste from the games away from landfill sites where it can be recycled. 'Recycling Ambassadors', are appointed to help visitors with recycling at Glasgow Green hub and ensure that waste is cleaned in an eco-friendly way.
Solar panels are installed in more than 700 homes in Athlete's Village which produce 60 % less carbon than average houses. These houses will become affordable homes with large green areas and there are plans to regenerate the derelict site at Cuningar Loop.
Glasgow 2014 is also reusing 260,000 items of furniture and equipments from London 2012 Olympics which were ferried by sea instead of road, rail or air.
70% of the venues used for this event were completed before the planning began as various existing venues like Hampden Park was converted to athletics stadium.
All the games workforce and ticket holders are using modern public conveyance. Also the organizing committee is taking efforts to make the venue car-free and provide clean and efficient energy through generators.
Scotland's renewable energy projects and developments are showcased to an international audience during this Commonwealth games. It is highlighting the benefits of renewable sources and creating awareness for cleaner energy solutions.
Glasgow's going green attitude assured low carbon emission, low waste generation and environment friendly acts. Glasgow eco model was efficiently planned and executed. It has set a good example to be implemented across countries. On similar lines Russia also plans to adopt environmental friendly policies for World cup 2018.
Glasgow has been successful in prompting a great social message of preserving environment through its conduct. Councilor Archie Graham, Executive Member for the Commonwealth Games commented: "The Games will leave the city an environmental and sustainable legacy, including improved land and air quality and innovative approaches to energy use and recycling."