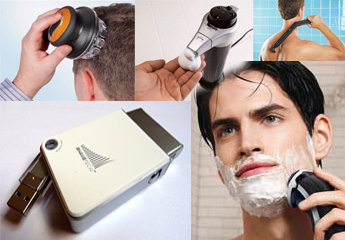 As rightly said by one of the theoretical physicist Michio Kaku, "Some people are a little bit afraid about the future because they see all these gadgets and gizmos coming down the pike and they think they're too old to learn all this new stuff. But eventually they begin to realize, "Hey, some of this stuff is useful"." Gadgets have rightly been playing an important role to make our day to day chores easy and simple. And the maintenance gadgets have been making our grooming more comfortable than ever before. Today, let's review some of the coolest personal maintenance gadgets for men's world.
Heated Shaving cream dispenser: How about shaving with warm gel every morning, especially in winter? Imagining itself gives a comfortable feel. Right? The heated shaving cream dispenser is one of its kinds where you can preheat your shaving gel or foam before shaving. This would give one luxurious and cosy shave every morning. One needs to simply attach the tool to the standard can of the gel and keep it inside of the device and set the preference of heat. In approximately 2 minutes, it can dispense warm gel or foam. Fortunately this is compatible with almost all the brands available in the market.
Rechargeable waterproof facial cleaning device: No more creams, no more scrubs to keep you fresh. This rechargeable facial cleaning device is a direct replacement for all these creams. It can be used with any of your cleanser to smooth and refine the skin texture. Being rechargeable, it is known to deliver around 450 cleaning sessions in single charge.
Personal barber: Imagine your barber accompanying you wherever you go. Sounds impossible? The personal rotary barber with its unique rotary blade system can help you to have a hair cut all by yourself. A small portable device which you can carry along with you and just needs to hover over your scalp so as to have the desired hair cut within few minutes. Moreover it can cut hair to the same length. So you need not worry about having irregular hair cut. The comb included in the device is known to give the hair cut for all cutting lengths: 1/8″, 1/4″, 3/8″ and 1/2″.
Back Hair Shaver: The Mangroomer Electric Back Hair Shaver comes with a long handle creating a 135o opening to give smooth back shaving experience along with a wide coverage. Its handle being fully extendable and adjustable, gives the right length for the shave.
Rechargeable USB Travel Razor: For people who travel extensively for business meetings, grooming is of utmost importance. The USB Travel Razor can be charged directly from computer and is smaller than a smart phone. Equipped with sharp blades and vibration mechanism it gives quick shave before presentation and business meeting.