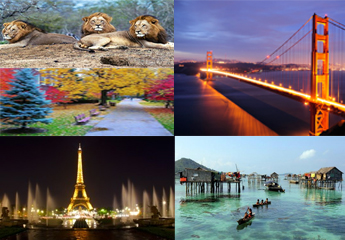 Our world is full of beautiful places. From snow-clad mountains to green plateaus, tropical forest to dry deserts, there is enormous variety to enjoy. Each one of us longs for a special place to relax and experience the uniqueness. Here we have listed few such preferred destinations around the globe.
Switzerland – Think of a honeymoon destination or a relaxation trip, Switzerland will surely be your first choice. Switzerland, a country in Central Europe is known for its scenic mountains, rolling hills and beautiful lakes. Basel known for its excellent museums and art works, Geneva – the hub of art and culture, Interlaken – Sport's capital of Switzerland, Zurich- famous for its nightlife, museums and galleries are popular tourist spots. Switzerland has temperate climate and is visited throughout the year. Apart from enjoying the picturesque locations of Switzerland, tourist can also relish the famous Swiss chocolates, varieties of cheese and take home the best watches and Swiss knives as souvenirs.
South Africa – Planning an adventurous trip? Surely, South Africa must have crossed your mind. South Africa's lovely mountains, deserts and long coastlines will certainly provide feast to your eyes. For adventure lovers it has lot to offer, from mountain walks to shark valley you can enjoy more than 130 adventures. And wildlife lovers can call it a paradise. Several national parks, wild life sanctuaries and jungle safaris are available to delight you. Also, South African has diverse cuisine and you would get a chance to enjoy enormous variety of food.
France – France is one of the world's leading tourist destinations. France is located in Western Europe and has been a hot tourist spot since ages owing to its beauty and culture. Paris – the city of romance and Eiffel Tower, Lyon – famous for its Roman history, Lille – the centre for cultural life, Bourges- showcasing gardens, canals and UNESCO heritage sites as well as Toulouse and Bordeaux are few must see places in France. The country side and river fronts, parks and arts museum each one of them will keep you mesmerized with its beauty.
California – One of the most sought out destination from USA. California lies on west coast and is well known for Disneyland, Hollywood, San Francisco, Napa valley and many such places. Geographically it shows a lot of diversification from snow clad regions to harsh deserts and enchanting coastlines. Hollywood's home Los Angeles, Sacramento- the state capital, Golden Gate Bridge, Alcatraz, cable cars and Victorian houses of San Francisco and the coastal city of Santa Cruz are sights to behold. Lake Tahoe, Big Sur, Yosemite National Park, Monterey Bay and several such destinations are worth experiencing.
Malaysia – Malaysia is a scenic country located in South Asia. Avowed for its beautiful island, tall mountains, lush green forest and awesome cuisine, Malaysia draws visitors from all round the world. Cameron Highland's tea plantation, multicultural Kuala Lumpur, Tioman- once nominated as most beautiful island in world and Kinabulu National Park are lovely spots. Malaysia is also known for various water sports like scuba diving and water rafting.