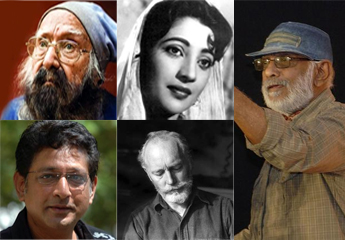 Khuswant Singh – A famous Indian novelist, lawyer, politician and journalist sadly passed away on March 20, 2014 at the age of 99. He started his profession as a lawyer, later he entered Indian Foreign services and then worked as a Journalist in All India Radio. He served as an editor with Yojana, National Herald and Hindustan Times. He also served as a prominent member of Rajya Sabha and received the Padma Bhushan which he returned as a protest against siege of Golden Temple by Indian army. He was awarded Padama Vibhushan in 2007. He wrote novels basically on Indian backdrop and short stories like The History of Sikhs, Train to Pakistan, Delhi: A novel, Black Jasmine, Ghadar 1915: India's first armed revolution and many more. He was known for his witty writing and great sense of humour. He will be fondly remembered by book lovers and socialists.
Suchitra Sen – A talented actress of yesteryear who contributed immensely to Bengali and Hindi cinema.  She expired on 17th January, 2014 at the age of 82. She was the first Bengali actress to receive an award at an International film festival at Moscow in 1963. She is also a proud recipient of Padma Shri. She began her career after her marriage starring in the movie – Shesh Kothay in 1952. Later she was casted opposite Uttam Kumar in Sharey Chuattor, it was a big hit and they became a leading pair. Suchitra Sen worked with Uttam Kumar in almost 30 films, most of which turned to be hits. She received best actress award for her first Hindi movie Devdas. Some of her famous movies were Aandhi, Deep Jwele Jaai, Uttar Falguni, Saath Paake Bandha, Musafir, Champakali and so on. She retired from the film industry after a wonderful career of 25 yrs and devoted her life to Ramakrishna Mission.
Balu Mahendra – Balanathan Benjamin Mahendran a famous director, screen writer and cinematographer.  He took his last breath on February 13, 2014. He contributed mainly to Tamil and Malayalam movies. His first film was Kokila in Kannada. He directed around 20 films, 2 of which were Hindi. He received 6 National Film Awards and several other state awards. Nellu, Prayanam, Manavoori, Olangal, Sandhya Ragaam, Vanna Vanna Pookal are few of his award winning movies. He made a debut in Hindi cinema with the movie – Sadma, which was a blockbuster. Balu Mahendra was admired both for his direct orial and cinematography skills. He was considered as one of the finest cinematographer of Indian cinema.
Ragesh Asthana – A noted actor Ragesh Asthana died of a sudden cardiac arrest on March 20, 2014 at the age of 51. He started his acting career in 1987, in the serial Subah as Appu Swami. Later, he played small roles in Discovery of India and Adhikar. He got his major break in the television serial Parivartan. He acted in several television shows like Andaaz, Shatranj, Marshall, Bombay Blue, Palampur Express, Gumrah: End of Innocence and few others. He also acted in several movies like I Don't Luv U, Shabri, Black Friday, Taxi No. 9211, Jaal and few more. His demise is a big loss to Indian television industry.
Granville Austin – A well known name as a historian and a Padma Shri recipient Granville Austin took his last breath on July 6, 2014. He had earned a doctorate in Modern Indian History from Oxford University. Austin authored two seminal political histories on the constitution of India namely – The Indian Constitution: Cornerstone of a Nation and Working a Democratic Constitution: The Indian Experience.  His work has also been published in Telugu and Marathi as well.