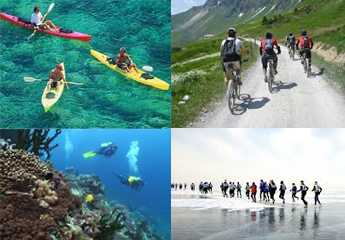 Love rock climbing, kayaking, scuba diving of mountain biking? Want to explore some adventurous travel destinations to add thrill to your life? Here is the list of few such fun places.
Rock climbing at Yosemite – Rock climbing is a fun filled activity enjoyed in various places around the world. The one offered at Yosemite is known worldwide for its mind blowing experience. Yosemite Mountaineering School Adventures organizes number of events like group hikes, custom day hike, overnight backpacking trips and many more. Various packages depending on the days you wish to spend are available however a making advance reservation is recommended.
Ice Marathon – Running a marathon itself is a great experience, and an ice marathon can only be a double fun, especially when it is in unexplored locations of Antarctica. This annual Ice Marathon takes place in -20°C temperate at the altitude of 700 meters with chilly wind whipping your body. You might need some experience however it is not compulsory. Following the advice of your guides can help you enjoy this adventure to fullest. This 100k run is generally organized in the month of November.
Scuba Diving at Fiji Islands – If you wish to enjoy your adventure with a good glimpse of nature, scuba diving is for you. Scuba Diving is a popular sport and can be enjoyed in most coastal areas, but the one at Fiji Island will leave you mesmerized. Several dive trips are available round the clock from resorts like Navini, Musket Cove, Plantation Island, Funky Fish, Waidigi Island and few others.
Mountain biking at Avoriaz, France – Avoriaz is a famous mountain resort located in the heart of Portes du Soleil. Apart from the pristine climate, the famous water park – Aquariaz and wonderful nature you can enjoy Downhill Mountain biking here. Each year during July and August several enthusiast participate in this sport. The local French Ski-School arranges for bike rentals and other amenities. If you are a bike lover this is a must try experience for you.
Kayaking at Baja, Mexico – Baja Sea is quite a known destination for kayaking. This exploratory trip is self sufficient and ensures fabulous view of marine environment with rare species. The turquoise water and the infinite beauty of nature is one of its kinds and can be experienced only in the Mexican Galapagos.