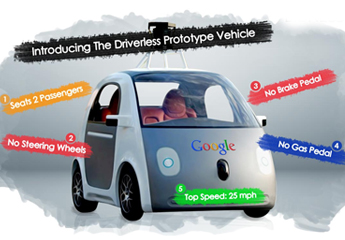 Imagine a car being driven without a driver and neither a steering wheel nor any brake pedal. Sounds surprising? This will be soon a reality by Google's first ever autonomous prototype of 'Driverless Cars'. These cars will be fully automated and based on sensors they will help the passengers to reach their respective destinations. Once a passenger aligns from the car, it will go and drop another passenger. With the help of this prototype, Google plans to get rid of erratic drivers and road accidents.
Google's five years of research has resulted in this astonishing product. These cars would be basically driven by means of software and sensors. The inbuilt sensors shall make a 3 dimensional image of the surroundings and thereby would be able to en route trough. The passengers will be free to relax and won't have to worry about the driving directions and parking. Driverless cars have been targeted for urban traffic and will take some time to reach the rural areas. It comes with a defensive driving style which will avoid car running into blind spots and erratic driving and also improper pauses at red lights. In addition, the car will be equipped with backup in case of failure of main system resulting into safe stand still. Though the passenger's comfort has been kept to a minimum, the car has been designed to get rid of problems faced in city traffic. Moreover Google also plans to adapt as time progresses with respect to the design of the car.
Though the car comes with features that are no doubt mind blowing, the security and safety concerns are the major roadblocks in the prototype's success. The car's sensors and software monitored through internet opens doors to hackers. Industrial experts firmly believe that these kinds of cars are susceptible to hacking by getting into the car main controls. Also chances to divert car driving traffic to create noise in internet is a good prospect. Also, 'Who would be held accountable if something goes wrong in driverless car?' is a question yet to be answered. This is a potential topic of debate to either hold operator – who is remotely monitoring the car or the passenger who is enjoying the driverless car – responsible. This will be the factor that will decide insurance claims in case of accidents. Although this is the prototype, Google claims to have many more development in pipeline on its software, sensors and other equipments. Once fully developed, these cars needs to be tested by Google trained drivers followed by real users of the car.
Google will be competing with manufacturers like Nissan and Volvo in this segment and at the same time, they need to convince the audience with the benefits of switching over to driverless cars. The switch may be challenging as they need to take care of safety, security and regulatory concerns. The manufacturer of this prototype themselves claim, it's a long way to go to make these cars available on road. The design and prototype though looks promising, needs extensive research and development to overcome the roadblocks and pave a smooth way to its success.
Despite of Google's sincere efforts, autonomous driverless prototype didn't get an anticipated reception from critics due to its atypical design and other issues.